A Lincolnshire pig farm has opened a cookery school, which has run virtual events with Ladies in Pigs in lockdown, with new live courses starting this month. Simon King reports. 
As Ladies in Pigs (LIPs) celebrates its 30th anniversary one of its members has found a great new to promote the taste and versatility of British pork – during lockdown and beyond.
Plans to open a cookery school have been delayed by COVID-19, but that has not stopped Fiona Lucas spreading the word online in the meantime.
The Lucas family has two farms in Lincolnshire; the first one, Hill Farm, was purchased in 2011 and Mark and Fiona Lucas began renting Bunny Hill Farm two years later.
Hill Farm is where the family bring gilts on replacement gilts; some are kept on the farm, while others are sent to another farm in Lincolnshire and a farm in Yorkshire.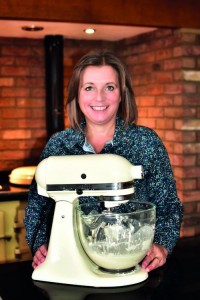 Fiona Lucas said: "It's like a bed and breakfast for replacement gilts; Bunny Hill Farm is our breeding unit and we have 1,500 breeding sows."
Mark Lucas, is a first-time farmer, while Fiona trained as a chef in her teens and by the age of 34, she owned her own pub and restaurant.
Fiona said: "I then met my now husband, Mark. He has three children from his first marriage, and I had my three children, so we brought all six children together.
"Mark relocated to Lincolnshire in 2010, while I finished up teaching in North Yorkshire in pupil referral units and prisons, where I was doing food tech teaching, including how to cook with knives, which was entertaining and interesting."
The couple were looking at putting a breeding unit on land at Hill Farm, but then they discovered that land was part of an ancient woodland.
"We'd got everything in place for the unit – all the electric and water and everything was cleared, but then we discovered we were in a zone of an ancient woodland, so we couldn't expand," Fiona said.
"My dream when buying this farm house was to have my own cookery school, because in mainstream schools, it's all about ticking boxes with Ofsted, and under 18s don't get enough practical experience with cooking.
"Kids love to cook and with my training, I could teach very basic cooking right up to high end. "My husband agreed that we should open a cookery school, so we submitted our plans in 2020 and then we realised that we had bats in the barn, so we adapted the building to accommodate the bats."
The Lucas's used local firms from across Lincolnshire to do the work, which included builders, plumbers, a granite worktop supplier and a double-glazing business.
Lincolnshire Cookery School
The Lincolnshire Cookery School, as the Lucas family has named it, was due to open in February, but COVID-19 restrictions put plans on hold.
"A friend of mine does home schooling, so I made the cookery school available so that kids that were being home schooled could access it," Fiona said
Fiona is also an executive member of LIPs and she has worked very closely with LIPs chairwoman, Debbie Wilson.
"Because we had this facility, I thought we should use it," Fiona said. "At 3pm on Wednesdays for the last seven weeks, we've been doing a live stream on the Ladies in Pigs Facebook account and we've been doing a cook-a-long.
"As a result, traffic on the Facebook account has gone up 90%; people have been sending photographs in and it's been a huge success. We were absolutely flabbergasted how successful and popular this live feed has been for LIPs and the feedback has been fantastic."
Fiona said that an aim of the link with LIPs was to talk about British pork. "I'm showing how versatile pork is. I do a recipe with pork loin – a lot of people are a bit scared about pork loin for some reason – so I shared my own recipe, which is with grain mustard; the feedback has been absolutely incredible," she said.
"I've got this brand-new facility, I'm a qualified food tech teacher and a chef, so this ticks all the boxes and we've had some fantastic feedback from that."
Fiona is now looking forward to opening the cookery school to clients on Wednesday, April 14 and she said that, initially, she will restrict the amount of people to five clients, plus herself, as there is enough space.
She said that the first two courses are fully booked already.
Fiona said: "The most popular courses at the moment are all about British pork and this is the first course to sell out. On this course, we make pork pies, sausages and Scotch eggs. Other courses include macarons and French fancies, right up to preparing deer.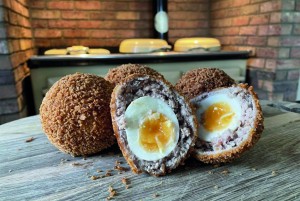 "At full capacity, we can have eight students, Fiona said, "and we've made the provision with the plumbing that if this is successful, we're going to then move into the other barn, which is a two-storey barn, and have a second classroom that would take 10 students, and then the downstairs would be an eating area.
"If it all goes to plan, we'll have an 18-student capacity."
Fiona said she thinks the key to the cookery school is the Lincolnshire surroundings.
"We're in the middle of nowhere, it's got a beautiful view and in the distance you can see Lincoln Cathedral," she said. "It's set in an old barn and it's just so beautiful, it's a mix of modern and old.
"We've got the right environment for this; I know what I'm doing and I've got the backing of my husband – it's a joint effort because he's had to sample all this food."
While the live streaming with Ladies in Pigs has now finished, Fiona says that she is considering offering evening sessions on Facebook.
Looking ahead to the summer and Fiona has been asked by Cancer Research UK to host a Great British Bake Off-style event for Stand Up To Cancer.
"On July 3, we're having a Great British Bake Off for 11–16-year-olds," she said. "There's going to be a maximum of eight people and all they have to do is make a biscuit and a cake.
I'm not charging anybody to take part and I'm providing all the ingredients.
"On July 4, we're welcoming over 16s and they are baking a pork pie using a dolly or a tin and a sandwich cake. Stephen Hallam, the managing director of Dickinson & Morris, Ye Olde Pork Pie Shoppe in Melton Mowbray has kindly agreed to be the guest judge on July 4; and Laura Fussey, from What Laura Bakes, will be the guest judge July 3.
All contestants will receive a Stand Up To Cancer Bake Off apron, which been designed by Ted Baker. The winner on both days will receive a choice of any course within the cookery school. Fiona said: "On my website, people can donate to Stand Up To Cancer, because they've had to cancel £10 million worth of cancer research in the last 12 month because of COVID-19.
"On Mondays for the next couple of weeks, I'm doing a live Stand Up To Cancer Bake Off, where I'm demonstrating in the cookery school, on my Facebook account, and anybody can tap into that at any point.
Fiona is also donating a voucher for the cookery school, which will be part of the Piggy Ball, as Ladies in Pigs celebrates its 30th anniversary this year.
This article was taken from the April Issue of Pig World magazine, which you can subscribe to here.