Much of the responsibility of keeping disease out of the UK pig herd remains in the hands of producers. In this three-part series of articles, we'll explore the steps that they should put in place to prevent disease from infecting a unit, stop it spreading within the herd or to other units and, ultimately, avoid the huge costs it can bring.
I t was an outbreak of swine dysentery that provided the catalyst for one prominent Yorkshire producer to implement much stricter biosecurity measures on his unit. NPA chairman Richard Lister, who farms in North Yorkshire and Nottinghamshire, has 3,000 indoor sows spread across four units, with the majority of progeny finished off site.
"About five years ago, we'd an outbreak of swine dysentery on two of our finishing units," he says. "I believe that the breakout was down to the fact that our biosecurity measures had become complacent.
"The cost to the business was devastating. Our mortality rates increased from 4% to in excess of 15% during the period, and there were obviously increased direct costs in terms of increased medication and labour, as well as indirect costs such as depression of growth and feed conversion efficiency.
"Our immediate action was to eradicate the risk of any further spread within the business and to other producers. So, once the batch was finished and had left the unit, we ensured that a thorough cleaning and disinfecting programme was implemented.
"We also left the sheds empty for eight weeks before allowing the next batch to enter. We really wanted to be sure that the pathogen had gone and wasn't going to come back."
Mr Lister says the outbreak prompted him to review the biosecurity measures across his business.
"Until the disease outbreak, we felt we'd good biosecurity protocols, but this was exposed by the appearance of swine dysentery. Because of this, I asked my retired herd manager to carry out a biosecurity SWOT (strengths, weaknesses, opportunities and threats) analysis on each of our units. We then worked closely with our vet to come up with a strategy that we've enforced across all of our sites," he says.
Explaining how the strategy has been implemented, Mr Lister says each of the sites is run independently, they all have separate staff and vehicles, and under no circumstances must anyone or anything enter from another site.
"Our breeding units are all fitted with showers and staff must remove and wash dedicated clothing before leaving. It's essential to get all staff bought-in to the biosecurity standards that you wish to achieve for it to be successful," he adds.
"What's more, our 14 finishing sites are all dedicated to one of our four indoor sow units. We chose to employ this as a method to improve our biosecurity, which in turn improves health.
"There's obviously a cost involved in implementing all of these measures, but it really is a small cost in the grand scheme of things. I'd urge all producers to implement a biosecurity strategy as the costs far outweigh those involved in a disease outbreak situation."
Right approach
The technical veterinary team manager at AHDB Pork, Martin Smith, agrees with Mr Lister's approach.
"Many producers don't necessarily see the benefit of employing biosecurity measures until they have a problem. However, I'd really urge that they work closely with their vets to pull together a biosecurity strategy," he says.
"Biosecurity is simply about good husbandry and doesn't have to be complicated and expensive. However, it's really important that all producers are aware of the costs that a disease outbreak could have on their unit as, for many, it could be detrimental. For this reason, producers should be actively doing all they can to stop disease getting in.
"Being prepared will help producers act quickly and minimise the risks involved should a breakout occur. It's also really important to note that there's no one-size-fits-all approach to biosecurity. Each unit has to have an independent tailored approach.
Mr Smith says that in an ideal situation, all units should be employing a baseline level of biosecurity 24 hours a day, seven days a week, to stop any diseases from getting in. The benefit of this is improved pig health and therefore improved productivity and, in return, healthier profits. A biocontainment strategy should also be pulled together in case of a disease outbreak to stop it from leaving the unit.
"The aim of a biocontainment strategy is to minimise the risk of the disease spreading among units and other sites," he adds. "This is obviously important as producers want to minimise the impacts of any disease outbreaks.
"The plan should include information on controlling movements from the unit during the outbreak, as well as information on how to maintain the health of other animals on the unit while making a decision on what to do with infected pigs.
"Not all units have to have top-end biosecurity all the time, but it's vital they know when to implement it."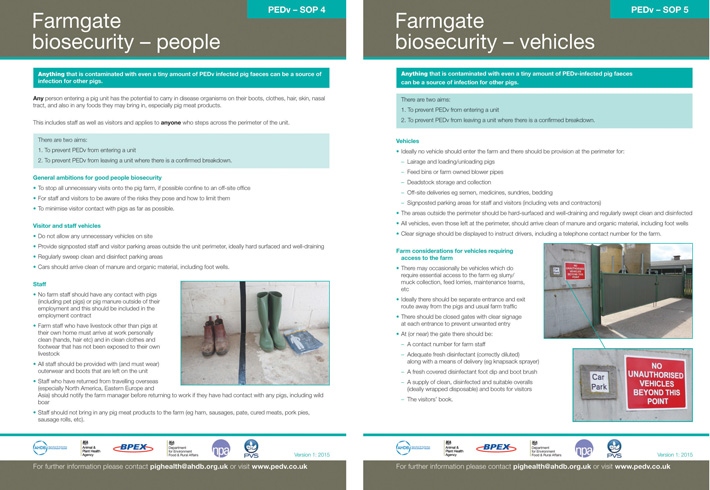 Practical steps to tackle emerging diseases
Specialised guides to help the industry cope with an outbreak of Porcine Epidemic Diarrhoea PEDv have been produced by AHDB Pork.
The first batch of Standard Operating Procedures (SOPs) are available to download from the levy body's website, and are the first step in preparing to cope with exotic and emerging disease.
Martin Smith says that, in total, there will be about a dozen documents that'll be updated regularly as the situation changes and knowledge of how to control PEDv improves.
"The documents will outline best practice and methods of control and are applicable to all production systems, both indoor and outdoor, processors and the entire allied industry," he says.
"They include advice on dealing with visitors on site and vehicles, plus manure management, while another highlights how fallen stock should be handled."
The strategy encompasses the entire industry and includes an advice booklet for smallholders and actions for hauliers.
Biosecurity Hazard Perception Tool available soon
To highlight the practicalities involved in protecting herd health, AHDB Pork is developing an interactive Biosecurity Hazard Perception Tool.
"It involves a series of interactive online video clips for pig stockpeople and farm managers to complete. Whenever they see an example of bad biosecurity, they'll have to click the mouse. It's a bit like the hazard perception part of today's driving test," Martin Smith says.
"The aim of the tool is to demonstrate good biosecurity practice to pig unit staff and, importantly, highlight mistakes which could be compromising the protection of their herds.
"Core aspects of the training module will focus on vehicles and visitors, cleaning and disinfectant, medication and system, and waste management."
The scripts for the videos have been written and are just undergoing approval. Once approved, filmed and edited, the tool can be built, and it's expected to be available to stock people and farm managers in the autumn.
For the second part in this series CLICK HERE