An innovative new device that will help solve an age-old industry problem has been named winner of the 2020 Pig World New Product Award.
MS Schipper's MS Nitrogen is a euthanasia device using nitrogen contained in bubbles to ensure a painless end for ill young pigs on farms.
Despite very stiff competition, particularly from the two runners up – Cargill's LivaPig feed additive and AgriSysts PigExpert data system – MS Nitrogen emerged as a clear winner.
THE RESULTS
The New Product Award is normally judged and presented at the British Pig & Poultry Fair. In the absence of this year's event, the judges interviewed the six finalists via video- or telephone-conferencing.
There were 23 entries to the Pig World New Product Award from companies that had intended to exhibit in the British Pig & Poultry Fair Innovation Trail. The judges whittled these down to a shortlist of six and selected a winner and two high commended runners up.
Winner
MS Schippers – MS Nitrogen, a welfare-friendly euthanising device
Highly commended
Cargill – LivaPig, a feed additive promoting healthier piglets
AgriSyst – Pig Expert, a comprehensive pig data app
Other finalists
BASF – Storm Ultra Secure, new rodenticide
Hermitage – Biosecure AI Delivery Unit, biosecure porcine semen deliveries
TC Farm Services – Systel Hot Air Blowers, heat source for weaners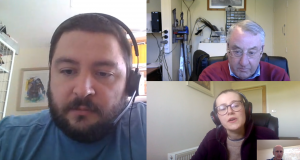 The judges
Stewart Houston, Red Tractor chair
Ben Williams, AHDB knowledge transfer senior manager for pork
Alistair Driver, Pig World editor
The winning entry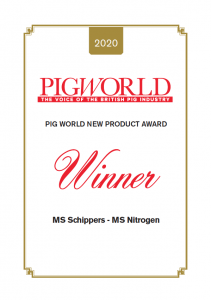 MS Nitrogen is a stainless steel bin, which can come with or without wheels. The key innovation is that the nitrogen is contained within bubbles, which producers can quickly and easily fill the bin with when the euthaniser is required.
"The white nitrogen creates an oxygen deficiency in tissues and organs, causing the animals to rapidly become unconscious and die quickly, without suffering pain. It works softly meaning the piglet doesn't feel it," said Gijs Kennis, division manager for the Dutch company (main picture).
The product is simple and quick to use, safe, mobile, easy to clean and disinfect and does not require electricity. Most importantly, it is technically reliable, according experience so far with three prototypes in the Netherlands and a trial at Harper Adams University last year.
Schippers is now intending to launch the product more widely in Europe, although the product is not yet approved for use in the UK.
Defra said it had previously funded research to verify whether nitrogen filled foam is a humane method for the purpose of depopulation and that this is now a permitted method under the relevant regulations, 'subject to compliance with key parameters and other provisions'.
Luke Roberts, the company's UK account manager, said he was delighted the product had won the award.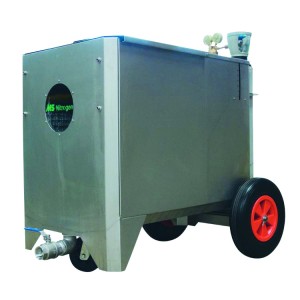 "We strongly believe the industry needs to be more transparent to people outside our sector. If producers want to farm for long time, it is clear that the pressure from outside the industry is only going to grow, so we need to do some things differently," he said.
Judges' view: The judges said the product was both innovative and a potential 'game-changer' for piglet welfare, with benefits for farm staff and the wider image of the industry.
Mr Houston said: "The industry has been crying out for a welfare friendly alternative to the current methods of the important task of euthanising non-viable piglets. Handling up to 15kg pigs at a time, the soft foam action of the Schippers MS Nitrogen vessel traps the nitrogen gently sends the piglets to sleep."
Mr Williams added: "When innovation is used to better the whole industry and genuinely represents a large step forwards, it's difficult not to stand up and take notice.
"This is what this offers and it's is great to see a product that is genuinely based on the triple bottom line: profit, people and planet. By allowing producers to maintain the drive for profitable pig production, but still put welfare of people and pigs first, is an example I hope to see more innovative companies follow."
HIGHLY COMMENDED
Welfare and productivity tick for Cargill feed additive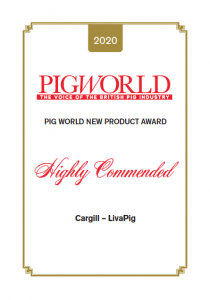 Cargill's LivaPig is a feed additive that has been shown to improve the sow's ability to produce and support more viable piglets.
It was launched at the start of this year with a view to addressing the problems associated with the trend towards ever larger litters, Cargill pig nutritionist Maisie Lord explained.
"We are looking at a quite painful truth that as numbers born alive increase, incidence of stillbirths and your need to provide farrowing assistance increases," she said.
"We have come up with a solution to help people get the most out of what they are putting in. We are developing this with a view to the future as the goalposts keep moving."
The product uses Cargill's Proxymum to boost nitric oxide, supporting the sow's supply of nutrients and oxygen to the piglet. This improves piglet livability and vitality, increasing birth and post-weaning weights, with subsequent benefits beyond.
Ms Lord said LivaPig is unique in its mode of action and it is therefore a patented technology.
The judges were impressed with the peer-reviewed trial results showing, where the product was used, an increase of 0.5 pigs weaned per litter, equating to 1.2 more pig/sow/year (you can read more in the Innovation Supplement with the May Pig World).
Judges' view: Mr Houston said: "I'm not usually a big fan of 'magic sprinkles', but Cargill have hit on something here.We looked hard at this product and the robust research behind it, and it does have a significant positive effect on live piglet numbers and their viability, giving it both a welfare and productivity tick."
PigExpert app impresses with volume and quality of data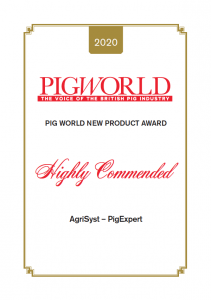 AgriSyst's PigExpert app, joint runner-up in the New Product Award, impressed the judges with the volume of data it collects, how it allows producers to customise their data and the ease and accuracy of the process.
The Dutch company describes the app as a 'complete programme' for recording sow, rearing, piglet and finisher data. It can be used via a mobile device and in combination with RFID (radio-frequency identification) and a barcode scanner.
AgriSyst CEO Marc Cox explained that the aim was to be able to register everything on the farm as a 'unique event', rather than just record 'main events', such as breeding, farrowing and weaning. That meant 'having a mobile device in the barn', with the potential for every pig to be individually electronically tagged.
"Our product is differentiated from others because you are able to register more information. And it is easy to use, fast and adaptable for the user," he said.
Judges' view: Mr Williams said: "AgriSyst's PigExpert is innovative in that it allows the user to customise what data they collect, speed up the input and increase accuracy with collection using your mobile phone, from farrow to finish. Recording information is as easy as ordering a takeaway in an online app."