The NPA is urging members to engage in what it has described as a once-in-a-lifetime opportunity for the pig sector to shape its own future.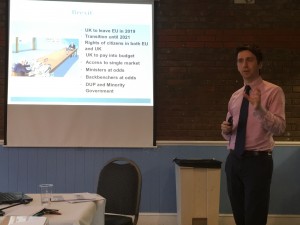 The association is seeking views from members to inform its response to Defra Secretary Michael Gove's Command Paper on the future of food and farming. Members are being contacted directly and questions are being posted on the NPA website, including regular updates on the forum.
But time is rapidly running out – the consultation closes on May 8.
Speaking at the association's South Central Regional meeting in Newbury on Tuesday night, senior policy advisor Ed Barker said the Command Paper covered 'pretty much everything from skills to labour, trade and market volatility'.
But one of its core purposes is to seek views on a new domestic policy, based on the principle of 'public money for public goods', to replace the Common Agricultural Policy.
For the pig sector, this could include funding to support producers investing in new buildings and equipment to help reduce antibiotic use and deliver high animal welfare. It could also incorporate investment to support the UK's export drive. "Denmark has 20 people in China working on exports, whereas we have one. Would this be a good use of funding?" Ed said.
"Defra have told us to be as ambitious as we would like – they are very much open to ideas. They will have this £3 billion-a-year fund and they want to know whether we want our share of it.
"We have set out a broad range of questions and we need members' views, whether you just want to answer one or two questions or all of them. The more input we have, the better case we can put."
An NPA member in the audience said the Command Paper was expected to be 'the most responded to document ever', with the Civil Service expecting 100,000 replies. A lot of these will be from outside farming, pushing, in some cases, anti-farming agendas, he said, stressing the need for 'active farmers' to make their views known in large numbers.
Chief executive Zoe Davies added: "It is key that people engage in this because it will affect every single one of you – there is no doubt about that. You can't wait to see what happens and then whinge about what comes out of it you don't say anything now.
"For us, it is all about what sort of things would make your life easier. This is a great opportunity for us. This will affect your lives for a very long time."
Policy services manager Lizzie Wilson added: "This is a once-in-a-lifetime opportunity – we must not let it slip by. If you don't ask, you don't get. But plenty of others will be asking."
See the NPA website to view the questions and contribute
To view the Command Paper, click here