Immunocastration would be a good approach for European pig producers to end surgical castration, but would be a retrogade step if adopted in the UK, acording to Peter Stevenson of Compassion in World Farming.
Speaking at the International Conference on Pig Welfare in Copenhagen, Mr Stephenson said the practice, which was already widespread in Belgium should be picked up by the pig sector if it's committed to ending surgical castration.
"This is widely used in Belgium, so it should gain consumer acceptance elsewhere," he added.
But asked by Pig World if he would be in favour of the immunocastration in the the UK, he had a different point of view.
"That would be a backward step when we already have a ban on castration," he said.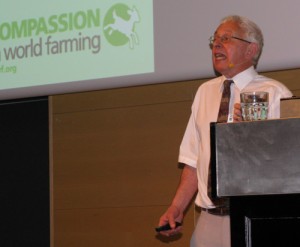 Peter Stevenson of CIWF
Support is growing in the UK for use of immunocastration to help control boar taint. The UK ban on castration and move to finishing entires has alreday resulted in countries like Denmark suggesting that the UK can be treated as adestination for pork with boar taint because the move clearly means it's not an issue with the country's consumers.
Newcastle University's Sandra Edwards, who discussed pigs and the pain involved in their production was sceptical as far as immunocastartion was concerned.
While it was preferable to surgical castration, which she suggested could on be guaranteed to be pain-free under general anaesthetic, the use of immunocastration still presented the ethical issue of the animal's integrity that couldn't be met by an other approach than producing entire males.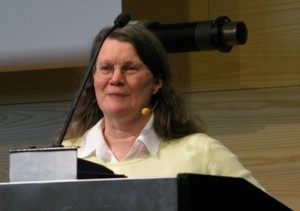 Sandra Edwards of Newcastle University