An announcement on visas for the processing sector is 'imminent', Defra Minister Richard Benyon has told the House of Lords this morning. 
After weeks and weeks of Government inaction and an apparent lack of awareness about the industry's plight, let along a desire to do anything about, the last few days have seen a distinct change of approach, which appears likely to result in a response today to industry calls for moves to facilitate the arrival of more butchers to work in UK processing plants.
Responding to questions from peers about its response to the crisis, Mr Benyon said:  "We are working closely with the pig sector in response to the backlog of pigs to both minimise on-farm culling and to tackle the shortage of butchers in the processing sector.
"We are working with processors to increase processing throughput and the recruitment of domestic workers. We continue to engage in discussion with retailers and the foodservice sector and are working with AHDB to reactivate the Chinese market and to identify other export markets," he told peers.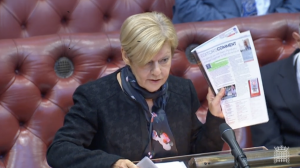 Then after a highly critical Pig World editorial suggesting that the Government did not care about the pig sector's plight was read out by Labour peer Baroness Jones, who demanded to know when the Government would act on visas, he responded:
"I can tell the noble Baroness we care deeply about this sector and people that work in it and the welfare of animal concerned and want nothing more than to smooth out the perfect storm of a variety of different issues, which have brought this to a head at this particular time.
"I had hoped to be able to come to the house within an announcement. It is imminent. She will be pleased with the hard work Ministers and officials have put in to show that we did care and we want this industry to get back on its feet."
You can view the session HERE (from 11.46am)