For the first time in three months, UK pork imports rose strongly compared with a year earlier in October. Meanwhile, exports increased by a quarter, to 21,000 tonnes.
At 43,200 tonnes, fresh/frozen pork imports were 8% higher than in October 2017. This growth was largely down to an 18% rise in imports from Germany, mainly driven by frozen boneless product, and a 10% growth in purchases from Denmark. Volumes from the latter reached 16,300 tonnes, the largest monthly total for this year.
Average prices were much lower than last year (-9%), and so the value of pork imports was down 2% at £78.8 million. EU pig prices started to drop significantly at farmgate level during the month, while UK pig prices fell by less. EU pork therefore became increasingly price competitive throughout the month, which likely led to higher import volumes. This trend continued into November, and UK pig prices have remained comparatively high into December, so competition from imports has likely remained strong.
Similarly, bacon imports were 9% up on the year, at 20,300 tonnes. This was largely due to higher shipments from Denmark, although this may represent some correction in the import levels recorded, as volumes last year were unusually low. Imports of sausages were down on October 2017, but more processed products were imported.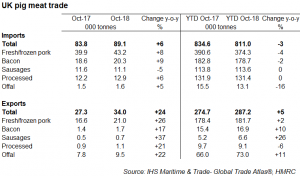 UK pork exports in October were significantly higher than a year earlier. Sales to China doubled (+2,000 tonnes), likely a consequence of rising Chinese import requirements as African Swine Fever disrupts its domestic industry. Most other destinations also took more UK pork, with shipments to the Netherlands up over 50% (+700 tonnes) and trade with the Philippines almost trebled (+700 tonnes).
A 6% year-on-year fall in average prices meant that the value of exports was only up 19%, at £27.9 million. Interestingly, the average price of shipments to China bucked the trend and increased by 2%, again indicating improving import demand in this region.
Cured and processed pig meat exports were also higher, mainly due to increased sales to Ireland. October was also another good month for UK pig offal exports, which were 22% higher than a year before, at 9,500 tonnes. This was led by a 65% increase in shipment to China, which offset a more mixed performance amongst the other significant markets.