UK pig meat production during November was 4% lower than a year earlier, at 83,100 tonnes, according to the latest figures from Defra.
This is the second consecutive month in which production has been lower than expected, and follows 12 months in which production was generally growing rapidly. Poor demand from abattoirs has been reportedly limiting throughputs.
Clean pig slaughterings during the month were down 3% compared with November 2017, at 951,800 head. Although, this still meant average daily throughputs were the highest since August. Slaughterings in England drove the overall decline, falling 5% year-on-year, but there was some increase in both the Scottish (+49%) and Northern Ireland (+1%) kill. The large increase in Scotland reflects reduced operations in a major plant this time last year, following fire damage.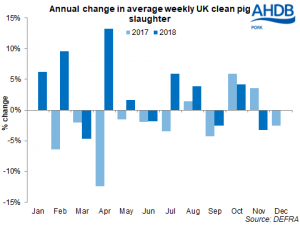 The lower slaughterings were emphasised by lighter carcase weights. The average clean pig carcase weighed 83.9kg during November, around 300g lower than a year before. This was the third consecutive month when weights have been lighter than 12 months earlier, but this follows particularly sharp increases last autumn.
In more recent weeks, data from the AHDB sample indicates weights have crept above 2017 levels, reflecting later marketing of pigs this year.
Sow slaughterings bucked the recent trend and were 2% below 2017 levels, at 22,400 head. This reflects the fact cullings this time last year returned to more normal levels, having been unusually low in the first half of the year. This month's figure indicates there are still few signs that sow numbers are starting to fall, despite producer margins slipping into the red.