HMRC has reported that fresh/frozen pork exports fell in April, totalling 17,000 tonnes, a decline of 9% year-on-year. The fall in volume terms was tempered slightly by a 4% rise in the average value of shipments, reaching £1.35/kg. This meant that the total value of exports fell by just 6% on the year, to £23 million.
The value of exports was supported by an increasing proportion of shipments going to higher value destinations. Most notable was the 16% (+400 tonnes) growth in volumes going to Ireland, where prices averaged £2.40/kg. Around 90% of this trade is fresh/chilled product, which commands a higher price tag. Overall, trade with other EU member states rose by 2% (+200 tonnes) year-on-year in April, with exports further boosted by Germany (+600 tonnes), thanks to higher sow cullings this year. This was enough to offset declines to Denmark (-800 tonnes) and the Netherlands (-100 tonnes).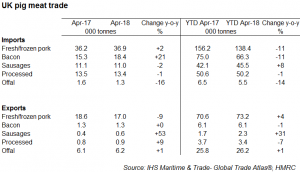 The modest export performance to the EU overall was set against a background of UK pig prices carrying a growing premium to EU prices. In week ending 25 March, UK pig prices were just over €19/100kg higher than the EU average, and this grew to over €22/100kg by the end of April. In May the premium grew again, to over €26/100kg, which may further hamper that month's trade figures.
Exports to the main global markets recorded decreases overall, with fresh/frozen exports to China falling by 31% compared to April 2017, to 3,000 tonnes. Exports to Hong Kong fell too, also by 31%, to 800 tonnes. However, as lower value markets, the decline in market share did support the value of exports on a per kg basis.
Exports to the US grew by 20 tonnes, notable as pork exports to this destination have the highest average prices at £3.27/kg. Trade to Japan also grew (+65 tonnes), as did volumes to the Philippines (+200 tonnes).
The unit value of exported offal fell in April by 9% year-on-year, to below £0.90/kg. This supported 1% (+60 tonnes) growth in export volumes, primarily driven by China and Vietnam. Nonetheless, total value still fell by 8% year-on-year, to £5.5m.
According to HMRC, the UK imported 2% more fresh/frozen pork during April than a year ago, following year-on-year declines earlier in 2018. Shipments picked up again from Denmark (+30%, 3,000 tonnes), but fell from Germany (-9%, 700 tonnes) and the Netherlands (-40%, 2,000 tonnes). Doubts remain over the accuracy of the data, with the Danish figure remaining somewhat erratic.
Imports from Denmark during Q1 declined 30% according to HMRC, however the drop is nearer to 20% according to Danish export figures. Reflecting lower pork prices this year, and an increasing proportion of cheaper bone-in imports, the total value of UK reported imports of fresh/frozen pork declined by 8% on year earlier levels, to £69m.