Sales of veterinary antibiotics in the UK are at the lowest level ever recorded, with reductions in pig sector usage a key factor in the downward trend.
The Veterinary Medicines Directorate's (VMD) latest UK-Veterinary Antimicrobial Resistance and Sales Surveillance (VARSS) report shows sales of antibiotics for use in food-producing animals fell by nearly 10% in 2022 to 25.7mg/kg. The lowest figure ever, this represents a 59% reduction on the 2014 figure of 62.5mg/kg.
Sales of Highest Priority Important Antibiotics (HP-CIAs) in food-producing animals remain at very low levels at 0.12mg/kg in 2022 and account for less than 0.5% of total sales.
In terms of usage, based on a different set of data, figures collated on the eMB-Pigs database and published earlier this year, show pig sector antibiotic usage fell by a further 18% last year to below 72mg/kg, representing a massive 74% reduction on the 2015 figure of 278mg/kg.
The report also highlights a positive picture for antimicrobial resistance (AMR)  across several key outcome indicators, including decreasing resistance in the indicator bacteria E. coli. These overall downward trends in resistance accompany the overall downward trends in UK veterinary antibiotic consumption, the report said.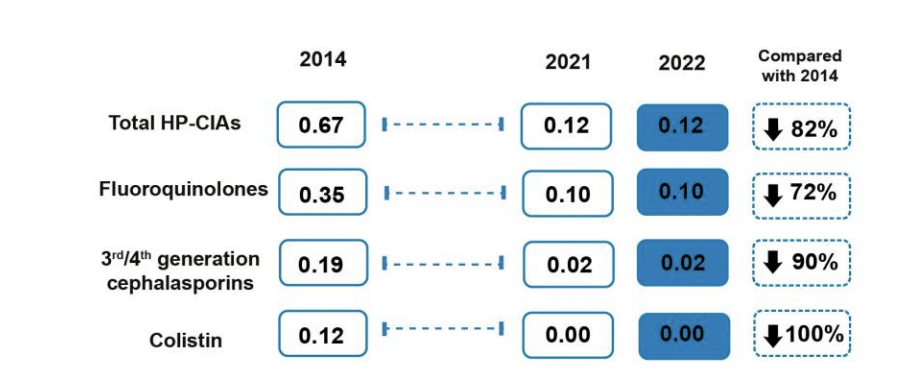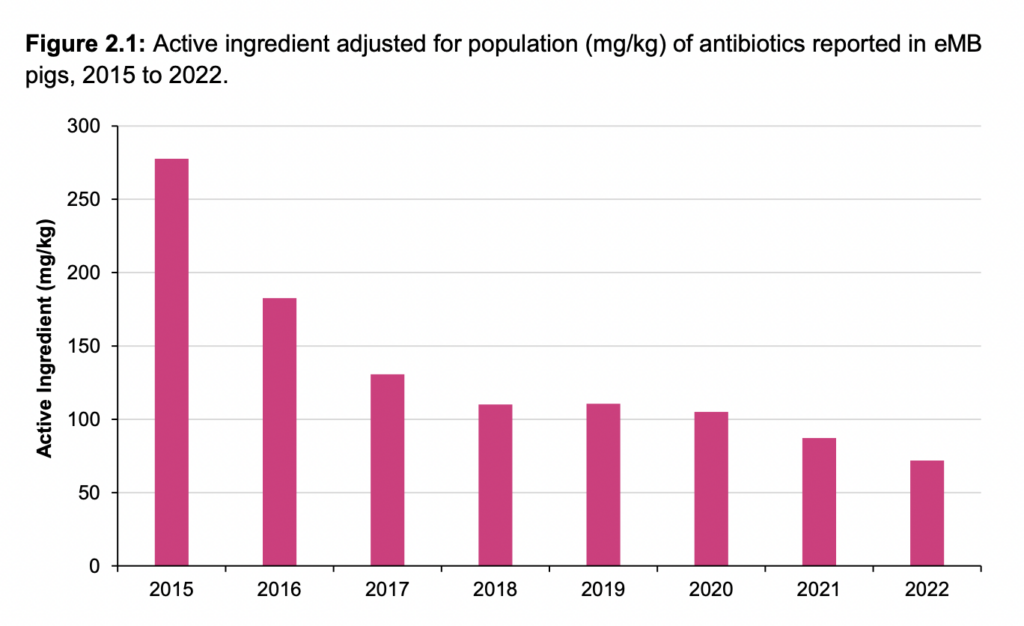 The VMD described antimicrobial resistance (AMR) as a global challenge with wide-ranging impacts across human and animal health, food security, and economic development. Avoiding unnecessary antibiotic usage in humans and animals is crucial to slowing the development of antibiotic resistance.
it said the report published today demonstrates the UK's commitment to surveillance of antibiotic use in order to better understand and mitigate the risks of AMR. In 2022, the AMR surveillance programme was expanded, to include the monitoring of three new bacterial species, giving a more complete picture of AMR in animals and its relevance to people.
Encouraged
Abi Seager, Veterinary Medicines Directorate CEO said: "Antibiotic stewardship is embedded in UK farming and responsible use is essential to maintaining our high animal health and welfare standards.
"I'm encouraged that our vets and farmers continue to make reductions in their antibiotic prescribing and use. We are continuing to expand monitoring to build upon our current knowledge and control the spread of AMR to strengthen the UK's biosecurity."
The Animal and Plant Health Agency works jointly with VMD to monitor bacteria in food-producing animals for AMR and provide the surveillance data presented in this report.
APHA Director of Science and Transformation Jenny Stewart said: "Today's report is demonstration that our collective hard work is achieving positive progress and we will continue to work closely with UK vets and farmers as well as international partners to develop their AMR capacity."
UK Chief Veterinary Officer Christine Middlemiss said: "This year's UK-VARSS report shows how collaborative working between government and industry is effective in reducing unnecessary antibiotic use.
"It is important that we maintain and build upon this positive progress and so I encourage vets and animal owners to continue to support the UK's 20-year vision to contain and control AMR."
Lord Benyon, Minister for Biosecurity, Marine and Rural Affairs, said: "Today's report is encouraging news and I welcome the commitment and energy shown by vets and farmers to address antimicrobial resistance.
"The UK government continues to champion the 20-year vision to contain and control AMR, and we will be publishing more information next year in a new five-year AMR National Action Plan."
NPA senior policy adviser Katie Jarvis said: "Pig producers have continued to make responsible reductions in the use of antibiotics despite the difficulties faced by the sector over the last two years, which is testament to their dedication.
"Concerns remain that the removal of zinc oxide could impact pig health and result in producers having no choice but to increase the use antibiotics as a tool for managing post-weaning diarrhoea.
"However, ongoing learning and exchange of information in this area have had a positive impact and demonstrate the commitment of the industry in continuing to reduce antibiotic use where possible."
Catherine McLaughlin, Chair of The Responsible use of Medicines in Agriculture Alliance (RUMA) said: "The results being seen in both the VARSS Report and our RUMA Targets Task Force Report demonstrate that the voluntary and collaborative efforts from UK livestock sectors in the responsible use of antibiotics is achieving positive outcomes.
"The UK livestock sectors should be proud of their work to date on tackling AMR."