Cranswick has retained its position in the top tier of the global Business Benchmark on Farm Animal Welfare (BBFAW), as UK companies dominated the rankings.
The BBFAW, supported by Compassion in World Farming and World Animal Protection, is described as the 'leading global measure of policy commitment, performance, and disclosure on animal welfare in food companies'.
The 2020 Benchmark analysed 150 global food companies, made up of 63 producers & manufacturers with combined retail revenues of US$500 billion, 52 retailers & wholesalers and 35 restaurants & bars.
The companies are divided into six tiers depending on how their welfare performance is judged and the top tier, representing 'leadership', is dominated by UK companies.
Pig producer and processor Cranswick is there for the fifth year in a row, alongside Noble Foods, which retains its Tier 1 ranking, and retailers Waitrose and Marks & Spencer.
A number of UK retailers are included in the Tier 2 ranking, where welfare is considered 'integral to the business strategy', including Tesco, Sainsbury's, the Co-op and Morrisons, alongside global pig company Danish Crown.
The ninth annual benchmark revealed that for the first time in its history, food producers & manufacturers are the highest scoring sub-sector on farm animal welfare. They achieved an overall average score of 38%, up from 35% in 2019, compared to scores of 36% for retailers & wholesalers, and 31% for restaurants & bars.
Food producers and manufacturers are also now the most represented sub-sector in Tiers 1 and 2 of the Benchmark, with twelve companies – Barilla, Cargill, Cranswick, Danish Crown, Groupe Danone, Fonterra, Hilton Food Group, Marfrig Global Foods, Nestlé, Noble Foods, Premier Foods and Unilever – showing leadership on farm animal welfare. These companies represent all geographic regions (Asia Pacific, Europe, Latin America, North America and UK) covered by the benchmark.
However, more than a third (39%) of the 150 companies covered by the BBFAW remain the bottom two tiers, including 23 producers and manufacturers, offering little or no information on their approach to farm animal welfare. In fact, 31 global food companies remain without an overarching farm animal welfare policy.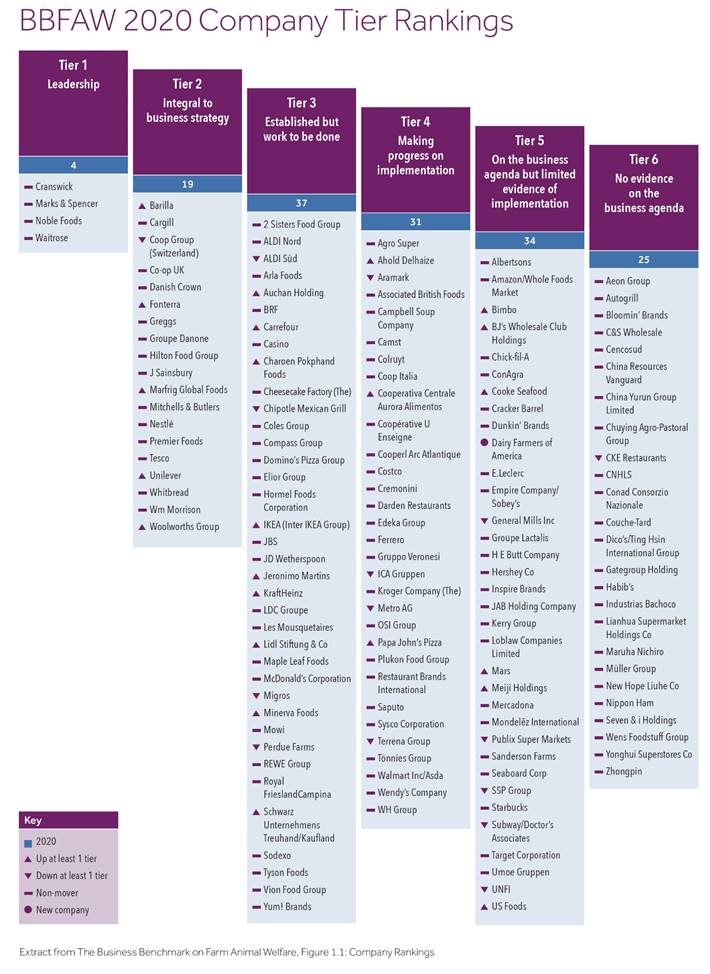 Overall, a total of 23 companies improved their score by at least one tier between 2019 and 2020.  Of these 23 food businesses, 13 were producers and manufacturers compared to nine retailers and wholesalers, and just one company in the restaurants and bars sub-sector.
A total of 15 companies dropped at least one tier and this included producers and manufacturers General Mills, Perdue Farms and Terrena Group. No UK companies dropped a tier in 2020.
Nicky Amos, executive director of the BBFAW, said: "The 2020 findings show how BBFAW is driving corporate action on farm animal welfare, with around two-thirds of companies actively managing the business risks and opportunities associated with farm animal welfare, and 79% of companies having committed to improvement objectives and targets linked to farm animal welfare. The progress made by companies on managing farm animal welfare since the BBFAW's inception in 2012 is remarkable and should be applauded.
"However, as BBFAW enters its tenth year, our expectation is that companies need to demonstrate how their management commitments are translating into improved welfare impacts for animals on the ground."