Newcastle University's Professor Sandra Edwards has been recognised for her research into animal welfare.
Prof Edwards was one of two winners of the 2017 Universities Federation for Animal Welfare (UFAW) Medal for Outstanding Contributions to Animal Welfare Science. The other was Jeff Rushden, of the University of British Columbia's Dairy Education & Research Centre.
Both were set to receive a commemorative medal and award at UFAW's International Symposium on measuring animal welfare at the University of London from June 27-29.
The UFAW Medal recognises exceptional achievements of individual scientists who have made fundamental contributions to the advancement of animal welfare over a number of years.
Well known within the pig industry, Prof Edwards, from the university's School of Agriculture, Food and Rural Development, is a worldwide respected expert on pig welfare.
Her research has focused on the major welfare issues facing the pig industry worldwide, seeking to better understand these problems and using this knowledge to develop approaches to enhance pig welfare that are feasible for the industry to readily adopt, UFAW said. Many of the welfare projects she has led involve collaborations between government, academia, NGOs and industry.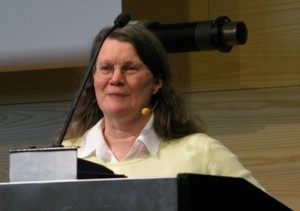 She has served on varipus influential committees such as Farm Animal Welfare Council (FAWC) and European Food Safety Authority (EFSA) and welfare assurance schemes and has published more than 200 papers and book chapters on her work.
She was nominated by Dr Catherine Douglas, a fellow lecturer at Newcastle, who said: "With a global push towards sustainable intensification in animal production, it is reassuring that Sandra turned down retirement to continue championing the animals' welfare."
UFAW's second medal winner, Professor Jeff Rushen of the Dairy Education & Research Centre, University of British Columbia, was described as has 'an extraordinary lifetime record in the field of animal welfare science'.  He has co-authored the most important books to date on both the welfare of cattle, and stereotypic animal behaviour.
Over the course of his career, he has published over 300 papers that provide a model of clear-thinking and research excellence. Amongst his work has been a series of very high impact papers on how people can become an important source of fear for animals, and how this fear can be mitigated to improve human-animal relationships.
He also has an impressive record of service and leadership within the field. He led Canada's National Farm Animal Care Council (NFACC) process ensuring that the welfare standards are science-based, and also served as science expert to the Council. He was a member of the European Food Safety Authority working group reviewing dairy cow welfare and is currently a member of the US Farmed Animal Well- being Commission for Beef.
UFAW's Chief Executive Dr Robert Hubrecht, who will be presenting the awards, said: "Professors Jeff Rushen and Sandra Edwards are both world-leading experts in their fields, who have made substantial contributions to our understanding of farm-animal needs and husbandry. They are very worthy winners of the 2017 UFAW medal"