The US pig herd stood at 77.7 million head, as at September 1, according to the latest quarterly report from the USDA.
This was 3% higher than both September 2018 and June this year. Slaughter and breeding pig numbers both echoed this year-on-year growth totalling 71.2 million head (+4%) and 6.43 million head (+2%) respectively.
The June to August pig crop was up 3% from last year, making it the biggest crop at this time of year since estimates began in 1970. Sows farrowing during this time fell by 1% to 3.18 million, demonstrating a record high number of pigs weaned per litter, 11.11, up from 10.72 last year.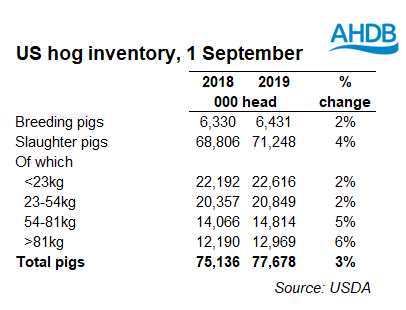 AHDB lead analyst Duncan Wyatt said: "There can be little doubt that the US continues to have plenty of pigs. Although, in the period September to November, producers intend to farrow 3.16 million sows, 1% fewer than the number farrowing during the same period last year. This may not matter if productivity continues to improve like in Q3."
US pig prices have been volatile this year. Optimism around potential breakthroughs in trade talks with China have repeatedly caused prices to rally, only for talks to stall and the plentiful supply of pigs to weigh on the price again. Chinese tariffs on US pork are 72%, although it was widely reported in mid-September that these might be reduced.
Mr Wyatt added: "These tariffs had been enough to deter Chinese imports of US pork. Although, in recent months volumes have been increasing in earnest, driven by stronger import demand and weaker US prices. In July, the US exported 58,000 tonnes of fresh/frozen pork and pig offal to China, over five times more than in the same month last year."