MasterChef 2010 winner, Dhruv Baker of Tempus Foods was judged Champion Producer for his pork products – smoked jowl, spiced loin, smoked coppa and house salami.
The award for Champion Product went to Phil and Melissa Beals of Beals Farm for their Mangalitza Ham in a well-contested competition to find Britain's best Charcuterie Producers.
Some 432 products made by nearly 100 British charcuterie producers were tasted and judged over nine classes by 33 expert judges, who also selected the two Champions based on their scores across nine different classes.
Mr Baker said: "I'm flabbergasted at the result, we've been producing charcuterie for just six months, although there's been a lot of blood, sweat and tears in developing the range going back several years. I'm delighted to be a winner, and it's a great motivation for us to carry on with what we do."
Mr Beals said: "What stands out for us is the strength in the competition, the sheer amount of product getting gold and silver is the best thing ever for British charcuterie. Winning Champion Product is an endorsement of the hard work that small artisanal producers put in, and for us to get recognition within such a high level award makes Monday mornings worth it!"
The competition covered British charcuterie made by butchers, farmers, chefs, artisanal and larger-scale charcuterie makers, using pork, lamb, beef, venison, duck, poultry or game. Over 200 gold, silver and bronze awards were given, reflecting the exceptionally high standards of the products entered.
Organiser Henrietta Green said: "We are simply delighted at the quality and level of entries for our 2018 awards. We were astonished at the number of British producers currently making great charcuterie, far more than we originally hoped for, and want our 2019 awards to attract even more producers to enter."
The full list of award winners cane be viewed HERE.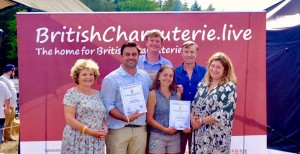 Pictured (left to right) are: Henrietta Green, co-founder BritishCharcuterie.live; Dhruv Baker, Tempus Foods; John Gower, head judge; Melissa and Phil Beals, Beals Farm; and Charlotte Sharpe-Neil, co-founder BritishCharcuterie.live.