African swine fever (ASF) has been confirmed in a wild boar in Germany very close to the Polish border. 
The Friedrich-Loeffler-Institute (FLI) confirmed Germany's first ever case of the virus on Thursday morning.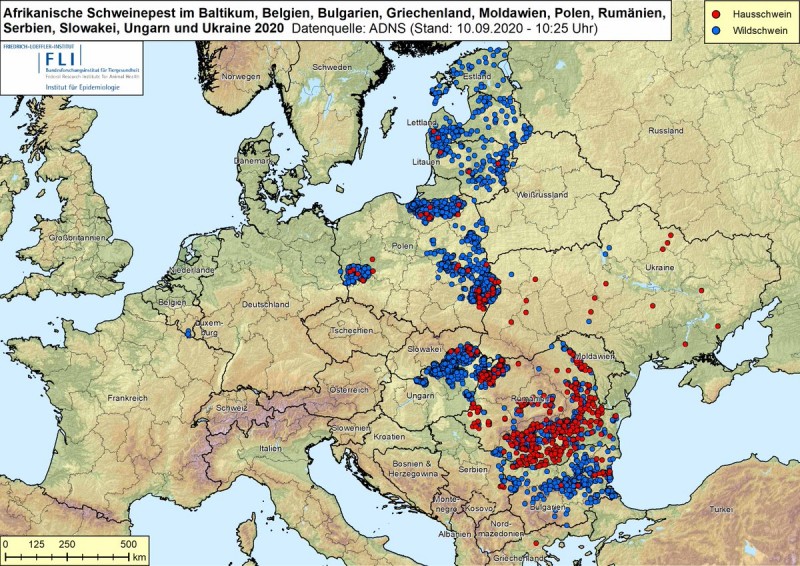 The suspected case was detected in a wild boar carcase found in the eastern state of Brandenburg, and bones found carcase were sampled. The carcase was decayed suggesting 'the entry took place a few weeks ago', the institute said.
The Berlin-Brandenburg State Laboratory detected the specific genome sequences of the ASF virus in the samples taken on site and the FLI confirmed the finding on Thursday.
The animal was found just 6km from the Polish border and only 30km from the the last confirmed case of ASF in Poland. This makes an entry by a migrating wild boar likely, although introduction by humans through contaminated food cannot be ruled out, the institute said.
It said the responsible veterinary authorities on site must now take the necessary measures and stressed that it was 'now extremely important for farmers to carefully observe farm biosecurity'.
"This still offers the best protection against the pathogen entering farm animal populations. The pig keeping hygiene regulation serves as the legal basis for this," the institute said.
It said wild boars that have died should continue to be intensively examined nationwide for the presence of ASF and any found dead should be reported immediately to the responsible authorities.
"It remains important to dispose of possibly contaminated pig products such as sausage and meat in such a way that wild and domestic pigs have no access. Vehicles, clothing, footwear and equipment that could have been contaminated during hunting, for example, should be cleaned and disinfected," the institute added.
"The suspected case unfortunately has been confirmed," German Agriculture Minister Julia Kloeckner told a news conference in Berlin on Thursday morning, Bloomberg reports.
She said the infected area will be cordoned off. The authorities have prepared for the eventuality of ASF occurring in Germany and will be putting in place measures to prevent the disease spreading further, she added.
In a Q&A on its website, published before this incident, the Federal Ministry of Food and Agriculture states: "If ASF were detected in wild boar, a so-called zone at risk would be established. It would then be prohibited to move domestic pigs into and out of this area.
"If required, wild boar would be hunted more intensively. Any wild boar that was killed or found dead would be examined. Further hygiene measures for disease control would be applied (such as centralised collection of viscera, if required centralised evisceration of killed wild boar."
High alert
Germany has been on high alert for ASF, and was considered at high risk of infection, ever since a spate of cases emerged in wild boar in western Poland, in some cases as close as 10km from the German border. Measures put in place to prevent disease entering Germany included building fences on the border and culling wild boar.
Germany is the EU's biggest pork producer and one of the world's biggest pork exporters, shipping around 500,000 tonnes per year, including huge volumes to China. There are fears that a confirmed case could result in damage that trade, with a wider knock-on effect on the German and EU pork market.
A confirmed case would come as further blow to a sector that has suffered from processing plant shutdowns during COVID-19, including the closure of a large Tonnies plant, which had a major impact on the market. 
In a report published in February, AHDB said EU prices could drop by 20-40% if ASF hits Germany, although the consequences of an outbreak for the EU market would not be as severe as it would have been 18 months ago, due to the ongoing demand for pork from China.
If German pork can no longer be sent, as other exporters are now shipping so much out of the EU, supplies on the EU market could increase to levels similar to those seen in 2018, the report said.
However, in an update article, published today, AHDB analyst Bethan Wilkins said the implications of export bans might not be as serious as feared.
You can read the article HERE 
"It remains to be seen whether China will follow its usual approach, and place a total ban on all German pork imports. Germany has previously been hopeful that it might be able to achieve a regional agreement with China, whereby unaffected areas could still trade," she wrote.
"In the past 18 months, the EU has been sending so much pork to China, that even if Germany did lose much of its export market, the volume that would become available for consumption within the EU would not be large by historic standards."