Supply continued to be tight with many producers down in weight on the back of recent poor growth rates, according to this week's Slaughter Pig Marketing Summary from Thames Valley Cambac.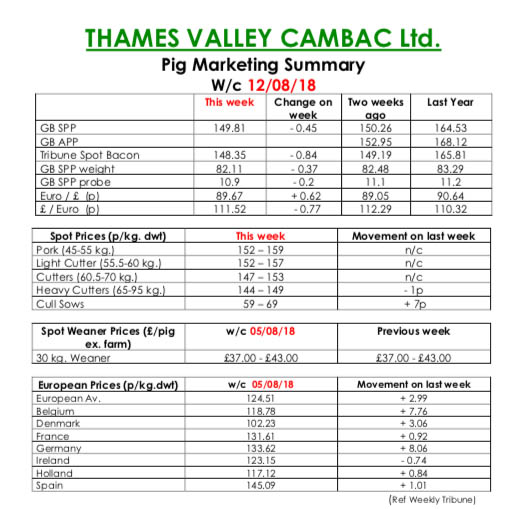 Hopefully, a cooler spell of weather will spark an improvement in appetites. Demand was steady, although one or two of the majors were keener for supplies than recent. Prices were similar, with only one major reducing their contract contribution by 1p.
The fresh meat market was a touch livelier in places and prices stood on. The cull sow market was the star of the week with prices up 7p on the back of dramatic prices rises in Germany. The increase in Europe was the result of a shortage in supply against particularly strong summer demand. The German market saw a rise of 8 eurocents, and its close neighbour Belgium followed suit. All quotes in sterling were further enhanced by a stronger Euro that ended the week up 0.62p at 89.67p.
The Weaning Marketing Summary, for week commencing August 5, reported that demand remained sluggish, with many fatteners preferring to concentrate on harvest rather than consider purchasing weaners. Spot 7kgs were particularly unattractive. The prices announced by the AHDB saw the weighted average for a 30kgs pig rise by £2.73 to £56.07 and the weighted average for a 7kg fall by 10p to £39.39.