Pork imports in South Korea have seen an 8% decline on the previous year, possibly as a result of consumer concerns over African Swine Flu, according to AHDB analysis.
Korea Customs data shows that the East Asian country imported 525,000 tonnes of fresh and frozen pork in 2019, down 8% on the previous year. Pork imports were particularly high in 2018 in a likely conscious effort to build stocks against African Swine Fever.
In the 3rd and 4th quarters of 2019, imports were down by 10% and 19% year-on-year respectively, accounting for almost all the annual drop. Import prices had started to rise in May, and by December, they were 12% higher than a year before.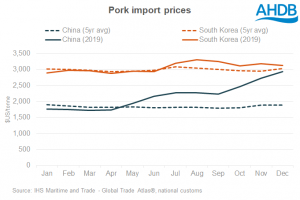 South Korea produces approximately 66% of its own pork, with the remainder being made up through imports. AHDB analyst Duncan Lyatt, commented that whilst production had been growing in recent years along with consumption, the discovery of African Swine Fever in September 2019 is likely to cut production and stem consumption growth withing the country.
"Between September and November, 380,000 pigs, approximately 3% of the herd, had been slaughtered to control the spread of the disease," he said. "Although management of the disease is thought to have been effective, Gira foodservice expect production to fall by 4% this year. There appears to be a knock-on effect to demand as well; retail prices for pork were falling toward the end of 2019. Despite this, Gira is forecasting import demand to increase in 2020."