The latest Defra census results indicate that clean pig slaughterings increased a substantial 12% on year earlier levels during February.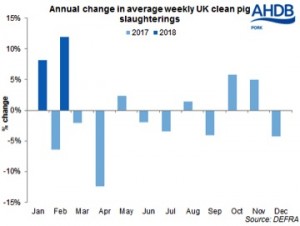 At 886,200 head, throughputs were also 1% above the same month in 2016. This confirms industry reports of ample supply levels, and supports expectations that throughputs could be higher than previously forecast in Q1 this year.
England and Wales recorded the largest increase in slaughterings, with numbers up 14% (+88,000 head) on the year. Such a substantial increase in throughputs might indicate that the breeding herd in these regions has been increasing more than Defra's June and December census results suggest. Meanwhile, the NI kill was 5% (+6,000 head) above 2017 levels; the increase in Scotland was a more modest 1% (+200 head).
Sow and boar slaughterings also returned to year-on-year growth after five months of decline. At 18,200 head, the number culled was 3% above February 2017. Cull sow prices rallied during the month, as EU pig prices increased, which may have encouraged producers to send more sows to slaughter.
Average clean pig carcase weights were marginally lower than year earlier levels, at 83.9kg. Cold weather during the month may have restricted growth rates somewhat. Nonetheless, the increase in throughputs meant production reached 76,900 tonnes, 11% above the month in 2017. Overall, this means production for the year to date currently stands 10% above the equivalent period last year.