The producer's share of the pork retail price in February stood at 40%, according to AHDB estimates. This was in line with the previous two months, but one percentage point below year earlier levels.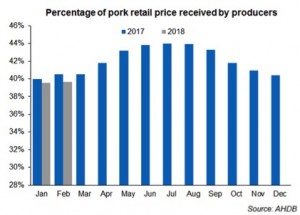 The stability reflects a decline in both farmgate and average retail prices over the past month. In comparison with year earlier levels, the producer's share was marginally lower due to a sharper drop in prices at farm level relative to retail level over the past year.
Looking at individual cuts, boneless shoulder recorded the largest fall in retail prices, declining 4% on the previous month according to the AHDB price survey. Most other cuts declined to a lesser extent, though diced and minced pork and sausages recorded prices stable to increasing. Compared to year earlier levels, price movements were more mixed. Boneless shoulder and loin steaks drove the overall decline, but most other cuts recorded some uplift.