Defra has announced a 5% annual increase in clean pig slaughter, for September, when production reached 887,100 head.
AHDB said this that this increase was probably influenced by an extra working day in September 2019.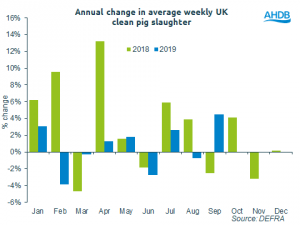 A similar increase in slaughter was recorded for England and Wales and Northern Ireland. Slaughter in Scotland was 8% lower than a year earlier though, contrasting with strong the growth recorded across the previous few months.
The rise in September meant total UK slaughter for the first nine months of this year was 1% above last year's level, at 7.98 million head.
Clean pig carcase weights in September reached 84.4kg, almost 2% (1.5kg) higher than a year before.
At 19,500 head, adult sow and boar throughput was down by 7% in September this year, compared with the same month in 2018. This continues the trend of recorded throughout this year. Last year's cull numbers were relatively high, suggesting a younger breeding herd this year.
Improving profitability, with feed prices falling while the pig price increases, has perhaps also encouraged producers to retain their breeding herd.
AHDB senior analyst Bethan Wilkins said: "Altogether, pig meat production increased by 6% compared with September 2018. The total stood at 77,700 tonnes. This took pig meat output for the year to date to 702,000 tonnes, nearly 2% up on a year earlier."