The latest data from Kantar Worldpanel, covering the 12 weeks to June 17, recorded a stable performance for the total pig meat category. Rising prices meant that in value terms the market grew by just over 1%, to an estimated £994 million.
Volume sales of both bacon and sausages were up compared to a year earlier, increasing by 1% and 2% respectively. Sales of sausages in particular have likely continued to be boosted by the warm weather and increase in barbecue occasions.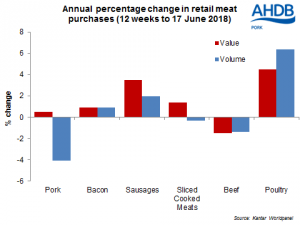 While growth in sausage sales volume has not matched that for burgers (+10% year-on-year), 1.5 million more trips were recorded for the category overall. Growth in the value of the sausage market also outpaced the increase in volume, climbing 3.5% on year earlier levels to an estimated value of £159 million.
Sales of pork sliced cooked meats were fairly stable in volume terms, but value increased by around 1.5% due to higher average prices.
Primary pork, however, recorded a decline in sales across the same period, in both volume and value terms. A 4% drop in sales volumes counteracted rising retail prices, meaning that market value was still down 0.5% year-on-year.
Sales of roasting joints were particularly negative; leg roast sales were down 13% by volume, despite falling prices, meaning the value of the market was 16% lower. Loin roasting joints also recorded a 12% decline in market value, as a sharp rise in average prices (+38%) translated into sales volumes declining by more than a third.
With the heatwave continuing, the switch away from the primary pork products towards processed might be sustained in the coming weeks. At the moment, this seems to be balancing pig meat sales overall, but whether this will continue is uncertain.