King's Lynn outdoor producer Richard Mellor has been named Pig Producer of the Year at the 2017 National Pig Awards.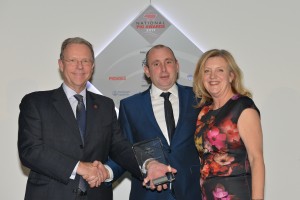 R & C Mellor also picked up the Outdoor Producer of the Year at a prestigious ceremony at London's Lancaster Hotel on Monday night.
The 950-sow unit produced an impressive 28.16 pigs weaned per sow per year, well above the AHDB top 10% average of 26.52, while the judges were also impressed with his desire to keep all of the unit's kit up-to-date, ensuring his sows are kept in the best possible conditions. This includes buying 20 to 30 farrowing huts and 10 to 12 dry sow huts per year.
The unit was adjudged the overall winner at the fourth National Pig Awards after going head-to-head with the Indoor Pig Producer of the Year, Steve Blaken, of H & C Blaken & Son.
The past year has seen Steve buy his brother out of the farm partnership, instal a new electric supply for the unit and add a new ARM finisher building for 900 pigs to the 540-sow unit, near Harrogate.
Meanwhile, performance has remained strong with 13.57 weaned per litter, daily liveweight gain at 901g and 28.86 pigs sold/sow/year.
Nearly 400 people attended the awards, which was hosted by the presenter of Farming Today and Countryfile, Charlotte Smith, who handed out a total of 15 awards on a night that celebrates excellence and innovation in the British pig sector.
The event also raised raised a total of £4,170 last night for the Farming Community Network, including via a charity auction with prizes of a Super Car experience and a helicopter ride, donated by principal sponsors, ForFarmers.
Full list of winners: 
Indoor Productivity – White House, Andrew Stevenson
From East Yorkshire, the 672-sow JSR unit saw farrowing rate go up from 86% to 91.3%, weaning rate from 11.5 to 12.8 pigs/ litter and pigs/weaned/sow per year to 31.7, compared with 26.2 a year ago. That equates to an extra 7,720 weaned pigs from 77 extra sows. It was an interesting day for the winner – just eight hours before picking up his award, Andrew's wife gave birth to their third child, Alistair.
Outdoor Productivity – PH Pigs, Paul Hume
Paul Hume's 900-sow outdoor breeding unit chieved an excellent 28.06 pigs weaned per sow per year, well above the industry average. PH Pigs has also impressed the judges with a farrowing rate of 92% and a born alive figure of 13.64, giving 11.68 pigs weaned per litter.
Producer Retailer of the Year – Cornish Charcuterie, Fionagh Harding
Fionagh and Richard Harding, who have recently expanded with a new butchery, maturation chamber and drying room, supply 400 retailers throughout the UK. Located near Bude in Cornwall, they produces a range of fermented sausages, air-dried meats and soft charcuterie, mainly with pork from the company's 12 British Lop breeding sows.
Stockman of the Year – Jake Jackson – PH Pigs
Just three years into his career, 22-year-old Jake is already described by employer Paul Hume as one of the best stockman he has worked with. Now the acknowledged 'second man' on the 900-sow outdoor unit, at King's Lynn, Jake's attention to detail impressed the judges
Technical Innovation of the Year – BQP's Smart Pig, Stephen Bennett
BQP's Smart Pig app, developed by Stephen Bennett, India Bishop and William Buckles, is an electronic medicine use recording system that works on any electronic recording devices. The user-friendly app can apply that data to the eMB-Pigs antibiotic database and makes all the data readily available for vets and fieldstaff.
Trainee of the Year – Ellis Gunn, Ermine Farms
Ellis Gunn was singled out by the judges among all tonight's winners as a 'future industry hero'. An assistant manager with Ermine Farms, in Lincolnshire, she works on a 720-sow unit rearing pigs to 30kg. Having joined in July 2013, she has worked in all departments, completing a detailed training programme before taking on her current role in April 2016.
Unit Manager of the Year – Craig Hawes
Craig Hawes runs Rattlerow Farms' Broom Hill Pigs, a 600-sow multiplication outdoor unit, with two other staff members. The judges were impressed with how he takes the lead on all key tasks, which helps him get the best from staff. Craig is credited with helping to achieve excellent numbers on the unit, including 26.5 pigs sold per sow per year.
Young Pig Farmer of the Year – Matthew Donald
Matthew Donald has been part in his family's pig and poultry business, in North Yorkshire, for seven years and became a director four years ago. His thorough research into building performance over three years has guided recent investment in new farrowing, weaning, finishing and gilt accommodation in the 280-sow pig unit.
Contract Finisher of the Year – Joe Watkins
The judges were impressed with the attention to deal shown in managing 1,450-place BQP wean-to-finish unit by Joe Watkins. In its most recent batch, the straw-based system, in Suffolk, achieved a daily liveweight gain of 803grams/day, substantially higher that the industry top-third, a feed conversion ration 2.19:1 and mortality of just 3.04%.
Investor in Training Award – JR Bodman
James and Helen Bodmans' 680-sow farrow-to-finish business, near Devizes, operates on two sites, including one using a PigSAFE freedom farrowing system. They employ eight full-time and three part-time workers and all staff receive training from day one, right throughout their time with the business.
NPA AIG Member of the Year Award – A-One Feeds
Part of the Devenish Group, A-One Feeds came out top from a shortlist of five provided by the NPA in a poll on the Pig World website. The company provides products and services to the livestock industry, specialising in feeding the young animal, with an enviable reputation for quality and service.
Pedigree Breeder of the Year – AJ & E Brown
Andrew and Emily Brown are the third generation of the Somerset-based AJ&E Brown to run the Valstock herd of pedigree Tamworth pigs. It includes approximately 30 sows, plus a number of boars, and there are currently four female and five male bloodlines on the go. They have dome tremendous work in promoting the Tamworth breed.
The judges's view
All of the awards, except the NPA AIG award, were decided by a panel of judges in a thorough process. Head judge Stewart Houston was impressed by the quality of this year's entries.
He said: "In some categories, there were very fine margins between the winners and the other finalists. Indeed, many who did not make the finalist list only missed out by a whisker.
"An overriding thought from the visits we made was the obvious level of investment we saw, especially in the outdoor sector, where new and innovative approaches to water delivery and farrowing paddock management were to the fore.
"Once again, the Trainee of the Year category was a delight to judge and we have an outstanding winning entry who will be a future industry hero.
"All of the judges reported considerable progress in their areas of responsibility and interestingly, the Defra Productivity Team are watching the Awards, looking for lessons learnt from the winners to lift production across the piece."