You can register now for the 2021 Pigs Tomorrow conference, which is set be the first major pig industry gathering since the start of lockdown last year.
Jointly organised by Pig World and AHDB, the two-day conference in Leicestershire in September will build on the success of the 2017 and 2019 events, bringing the industry together for a packed conference agenda – featuring high-profile speakers from the UK and beyond, a comprehensive exhibition area and plenty of networking and socialising, including a gala dinner with a guest speaker.
The format
The first day will be dedicated to the International Outlook Conference, and chaired by AHDB pork strategy director Angela Christison.
In this post-Brexit era, with new trade deals very much in mind and global factors having an ever-increasing say on our market,Gira meat director Rupert Claxton will set out that overall global perspective on the pork sector. In the last year, he has been actively researching developments in the global pork supply chain as ASF spreads through key markets and COVID-19 disrupts the global economy.
We will also hear from Nick Giordano, the outspoken vice president of the US National Pork Producers Council, who will explain how the US pork sector has got through COVID-19, its global ambitions – and exactly what it wants from a UK trade deal.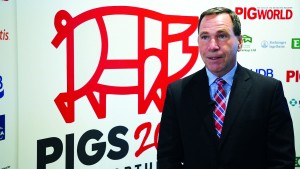 You can a read of taster of Mr Giordano's views HERE.
There will be plenty of opportunity to ask questions of all speakers.
Day 2
Day Two, the Innovation Conference, will feature discussion on some of the hottest topics in the pig industry, including an expert panel to discuss the future of farrowing systems in the UK. The day will, as always, cover some of the technological advances and innovations that will help drive the pig sector of tomorrow forward.
Keep an eye for further speaker updates.
Simon Lewis, Lewis Business Media managing director, said: "We are delighted to be teaming up with AHDB again to put on Pig Tomorrow, and are particularly look forward to bringing everyone together in person for the first time in well over a year. 
"We had fantastic feedback from the previous two events, and we are aiming to make this one even better. See you there!"
More information
For more information and to register your interest, visit the conference website:
www.pigstomorrow.com
Day One, the International Outlook Conference, will be open to invited guests from all over the world. Levy payers can buy a ticket or register their interest on the website. We will then share this with sponsors who wish to invite levy payers. Non-levy payers should contact Martin Goult (contact details below).
Day Two, the Innovation Conference, will be free to all levy payers, courtesy of AHDB. For non-levy payers, tickets will be available to purchase for anyone who has not been invited.
For more information on attending, email Gabriella Overton,
on [email protected]
For information on sponsoring or exhibiting at Pigs Tomorrow, email
Martin Goult on [email protected]