Red meat sales continued to perform badly, according to the latest update from Kantar, which covers the 12 weeks ending December 1.
Processed meats, in particular, are struggling. Fewer shoppers are purchasing red meat, with fewer promotions on as well. Despite fewer shoppers purchasing red meat, many still do.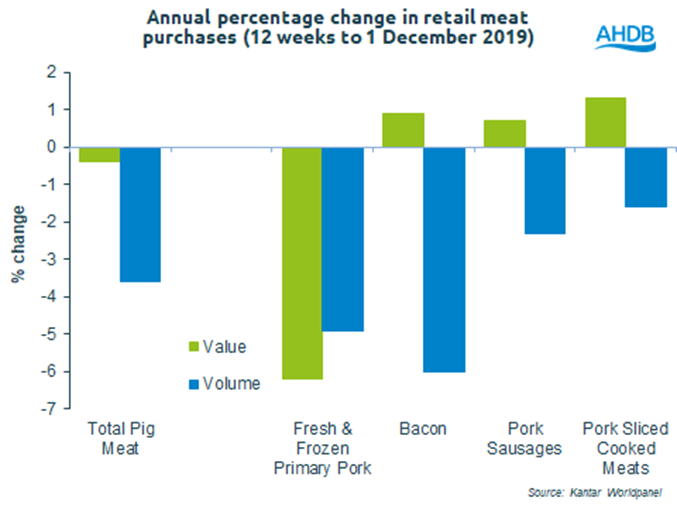 Total pig meat retail sales fell almost 4% in volume, however, value only dropped by around 0.5% because of price rises. Almost all the main primary pork categories recorded declines, with bacon and sausages doing poorly in the processed sector.
Bacon has struggled throughout 2019, with previous updates from Kantar citing health concerns as the driving factor.
Beef and Lamb
During the 12 weeks ending December 1, total GB retail sales of total beef were steady in volumes terms year-on-year, according to Kantar data. Unfortunately, the data is now being compared with a period in 2018 that recorded a significant decline in beef sales. For total lamb, the volume of sales declined 4% in volume.
Although volumes are down for beef in total, in a break from recent trends steaks recorded some volume growth, while mince recorded a decline.
Poultry
Fresh and frozen primary poultry bucked the trend recording a 4% rise in volume, however, shelf prices were down, meaning there was no growth in total spend.