The entry of Boris Johnson into Downing Street has dramatically shifted the Brexit narrative. Farmers are concerned about a no-deal Brexit and are demanding answers. Alistair Driver reports
The arrival of Boris Johnson in 10 Downing Street has immediately shifted the Brexit dynamic.
With a no-deal exit becoming, overnight, a very real prospect, farmers are now demanding rapid answers from the new Prime Minister about exactly how he intends to ensure they do not become collateral damage in the bigger political battle.
ARE WE NOW HEADING FOR A NO DEAL?
At the heart of Mr Johnson's successful leadership campaign were rallying calls to the disaffected Conservative membership about getting Brexit done, 'do or die', by October 31, even if that means leaving without a deal.
Indeed, Michael Gove, who is now helping to formulate Brexit no-deal preparations at the Cabinet Office, revealed that the Government was 'working on the assumption' of a no-deal Brexit.
He was quickly contradicted by Mr Johnson, who said that a no deal was still 'a million-to-one' chance, although he stressed that it was important to prepare for the eventuality.
But the financial markets appear to believe Mr Gove, with sterling crashing to a two-year low against the dollar on the back of no-deal fears in late-July.
During a visit to Wales in the first few days of his premiership, Mr Johnson told farmers that the Government was 'not aiming for a no-deal Brexit' or expecting one. "This is very much up to our friends and partners across the Channel," he said.
His strategy, a risky one, is to convince the EU that the UK is genuine about leaving without a deal on October 31 to force it to compromise, which means, primarily, scrapping the Irish border backstop.
Mr Johnson is refusing to meet EU negotiators until there is movement on the backstop. So far, at least, Brussels is refusing to budge on one of its key Brexit demands. EU member states are upping their preparation for a no deal, too. Tensions are rising, particularly with Dublin.
There is still time for a resolution, but not much, and MPs would fight to prevent it. But it is now a very stark possibility.
WHAT WOULD A NO DEAL MEAN FOR PIGS?
As has been well-documented, a no deal would result in massive trade disruption, including extra checks and paperwork at ports, resulting in significant delays – and a potentially damaging tariff regime.
UK pork exports would become subject to full EU tariffs, including €536/tonne on sow carcases, making the trade largely uncompetitive. We could lose our £200 million EU export market almost overnight, NPA senior policy adviser Ed Barker warned.
Yet under government proposals drawn up earlier this year, UK pork would have relatively little protection in terms of import tariffs. Tariffs on most pig meat products would remain in place, but would be reduced to around 13% of the rate the EU currently applies to non-EU countries, according to AHDB. The average tariff would add around €0.10/kg (9p/kg), equating to around 4-5% of the price of pork, bacon and ham imports.
Mr Barker said the expectation was that the Government would stick with these proposals but keep them under review.
While the tariffs would add small additional costs to EU imports, on top of other new non- tariff costs, the big concern is that they would have to apply to all countries that we do not have a trade agreement with, opening up the UK to imports from the likes of the US and Canada. Despite additional transport costs, significantly lower costs of production, due to standards that would not be permitted in the UK, would make US and Canadian imports significantly cheaper than UK pork products.
"Would this simply displace European product? Or would it take over the whole UK market? It is hard to tell. We would also have to consider the role of sterling and its likely drop in
a no deal, which could balance the effect of imported products and perhaps make British products more competitive," Mr Barker said.
A US-UK TRADE DEAL?
While Mr Johnson appears unwilling to engage with the EU, he has already held discussions with Donald Trump about the 'unparalleled' trade opportunities for a UK-US deal offered by Brexit. Mr Trump said he expects a 'very substantial' trade deal.
Mr Barker said the repeated assurances of politicians that the UK won't lower its production standards in a US trade deal or under a no-deal could be difficult to enforce in reality. "Under a no deal we are limited in how we could limit lower-standard imports – for example, we could not prevent products from stall- based production. Meanwhile, to suggest that the likes of the US would happily meet UK baselines standards on its exports is fanciful."
No sector is more aware than pigs of what can happen when cheaper imports produced to lower standards are allowed into the country.
WHAT WILL THE GOVERNMENT DO TO MITIGATE THE IMPACT OF A NO DEAL?
UK sheep farmers face an even worse no deal prospect, with tariffs of 40% on lamb exports likely to destroy the EU market they are so hugely dependent on.
There was talk of the 'possibility of some civil unrest' by the Welsh livestock sector in the event of a no deal and on the day of his visit to Wales, Mr Johnson was told by a Welsh farmer, the National Sheep Association's Helen Roberts, to stop 'playing Russian roulette' with the lamb industry over the threat of a no-deal Brexit.
Mr Johnson, of course, had a positive message for farmers. "I will always back Britain's great farmers and, as we leave the EU we need to make sure that Brexit works for them," he said, adding that that meant scrapping the Common Agricultural Policy and signing new trade deals.
While maintaining that he does not expect it to happen he added that farmers would 'have the support they need'in the event of no deal. He said this included helping farmers to find new markets and 'interventions that aim to support them and their incomes'. But the most important point, he added, is that 'we don't want tariffs and we don't envisage they will be necessary', stressing that it is 'massively in the interests of our EU friends to have a zero-tariff, zero-quota regime'.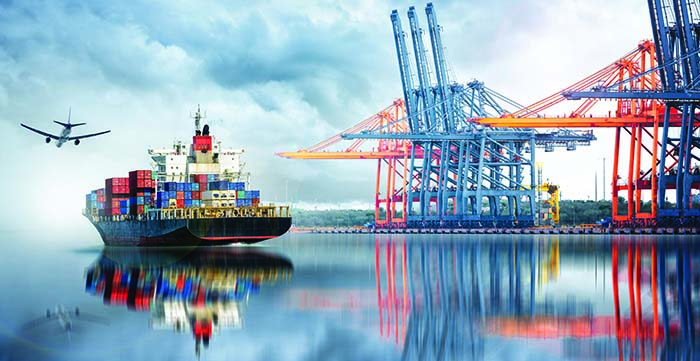 The Times reported that the Government is drawing up plans for a £500m-a-year farming no deal rescue package that would see the Government buy up lamb and beef that can longer be exported to bolster farm incomes. Pork is unlikely to be included, Mr Barker said. But he stressed that the NPA will be pushing for measures to protect the sector, including a tariff rate quota, fixed in line with current import volumes to ensure current import trade is not exceeded.
But with October 31 looming, farmers are demanding more detail, and soon, about how the Mr Johnson would ensure the industry can survive a no-deal Brexit. The relentlessly upbeat, optimistic rhetoric that has got him so far is no longer enough.
NFU president Minette Batters, who has warned that a no deal could be 'catastrophic' for the industry, said: "It is vital that the Government lays out in detail how it will achieve its stated ambitions for Brexit to deliver a better deal for farming."
She said this included knowing what new trade deals will provide for British farmers that we can't currently access and what the UK will be required to offer in return, and ensuring we leave 'in a smooth and orderly manner, which allows free and frictionless trade with the EU'.
"Above all, we must ensure our high standards of animal welfare and environmental protection are not undermined by trade deals," she added.
FIVE INDUSTRY ASKS FOR BORIS
The NPA has written to Mr Johnson laying out five key asks from his Brexit policy. Any agreement must ensure that:
The UK leaves the EU with a deal in place to maintain our most important export market, worth £200m;
Our post-Brexit trading arrangements do not disadvantage UK pork producers and expose producers and consumers to cheap imports produced to standards not acceptable or permissible in the UK;
The British pig sector continues to have sufficient access to permanent EU labour after we leave the EU;
Sufficient resources are put in place at ports and airports to keep deadly viruses, such as African swine fever (ASF), out of the country; and
Our post-Brexit agricultural policy strikes the right balance between delivering public goods and championing productive agriculture and understands and promotes the unique diversity of pig production systems in the UK.