In the first of a series, in association with ForFarmers, looking at a future beyond zinc oxide for UK pig producers, ALISTAIR DRIVER explores the uncertain political backdrop and asks whether enough is being done to prepare for a ban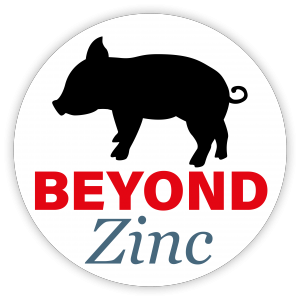 It is nearly three years ago that the European Commission confirmed that Member States would have until June 2022 to withdraw zinc oxide products used at medicinal levels in pig feed.
The five-year transition, following strong lobbying from the NPA, represented something of a relief at the time, after initial indications from Brussels that the ban could be more imminent.
But now well over half way through the transition, we still do not know how, following our exit from the EU, the ban will be implemented in the UK. There are also concerns that, while some work to find alternative approaches has been done, the UK industry still has a long way to fully prepare for life beyond zinc.
The political backdrop
The NPA and Pig Veterinary Society are in ongoing discussions with Defra and the Veterinary Medicines Directorate  (VMD) about how the UK will implement the ban. There appears to be some scope for flexibility, as long as the industry can justify it. A Defra spokesperson told Pig World the Department was 'ready to re-examine both the risks and the benefits of zinc oxide if new evidence is provided'.
"Decisions on the use of veterinary medicines are made on the basis of the best available scientific evidence taking into account the benefits and risks to animals, humans and the environment," the spokesperson said.
Stressing the Department's commitment to reducing endemic disease, she said it would 'continue to work closely with the pig industry to support the adoption of alternative strategies and ensure this progress is maintained'.
The ban was primarily about the environmental impact of using zinc at medicinal levels, which the Commission's advisory committee concluded outweighed the benefits of the prevention of diarrhoea in pigs. Usage was also linked to possible antimicrobial resistance.
NPA senior policy adviser Rebecca Veale said: "We have questioned the science behind the European Food Safety Authority report, which led to the EU-wide ban.
"We believe that Government should make a decision based on UK data, and we hope that, as we leave the EU, there is consideration of the science and evidence relevant to this country.
"As such, we hope our discussions continue with the VMD and a sensible solution can be reached."
Nick Major, corporate affairs director for ForFarmers and a member of the Agricultural Industries Confederation (AIC) Sustainability Committee, said: "Now that the UK has left the EU we have the opportunity to determine our own approach to the use of zinc oxide. This will be done with vets, producers and, of course, regulators such as the VMD."
"As well as looking for alternatives to zinc oxide, we need to consider the effectiveness and environmental impact of using it at lower levels." 
The bigger Brexit picture could, of course, be significant – the further the Government is prepared to diverge from EU Regulation in future trading arrangements, the more flexibility there will be in areas like zinc oxide.
Preparations so far  
Zinc oxide products have long been used to treat post-weaning diarrhoea and bowel oedema disease in young pigs. A typical medicinal dosage is around 2,500ppm. An estimated 70-90% of starter diets in the UK contained zinc oxide at therapeutic levels at the time of the ban.
According to Ms Veale, there has been 'little progress' so far in preparing for the ban since the EU decision in July 2017.
"One of our key concerns was the lack of alternatives," she said. "Some producers have stopped using zinc oxide with great success, but for others it has been more challenging and there is no clear reason why the solutions have worked for some and not others.
"We are still in the same situation in terms of the challenges posed – endemic disease and older buildings continue to be an issue, and while there are opportunities with the Animal Health and Welfare Pathway, improvements won't happen overnight and planning permission is still problematic for many."
And, as the pig sector starts to explore the next phase of antibiotic targets from 2020 to 2024, with an announcement later in 2020, the enforcement of the zinc oxide ban has to be factored in, she added.
"We cannot compromise the health of pigs in making reductions," Ms Veale said.
Mandy Nevel, acting head of animal health & welfare at AHDB, echoed these concerns, warning that as the pig industry's dramatic reduction in antibiotic since 2015 starts to flatten off, there may be times when producers face disease challenges and usage increases – as happened when the industry suffered a surge in swine dysentery cases in 2019.
"Zinc oxide has been used for many years in the pig industry, particularly to reduce scour in post-weaned pigs. There is concern that we will see an increase in post-weaning diarrhoea when zinc is phased out, which could have an impact on the health and welfare of our pigs as well as, potentially, an increase in antibiotic use.
"We expect a range of scenarios. Some units may have no problems, but for others there will be issues. I urge producers to take on the challenge and see it as an opportunity to review practices, alongside their advisers – there may be financial benefits from improving a few key areas."
She highlighted the situation in Denmark, where the use of zinc has declined, along with antibiotics, indicating producers are managing to prevent post-weaning diarrhoea in other ways, not only with treatment and medication. "There isn't going to be one solution that fits all, but, as with the control of any disease challenge, a holistic approach will be vital," she said.
Dr Nevel pointed out, for example, that disease spread can easily be prevented by correct ventilation and basic cleanliness and hygiene.
"Act today – put a plan in place with your vet and nutritionist that closely monitors the health of your pigs, so if you do run into trouble, you'll pick it up early and will already have a plan of action. Pay attention to detail, particularly around what happens to your pigs at weaning," she said.
"And if you encounter problems further down the line, antibiotics must be used, if necessary. That is responsible antibiotic use."
The feed industry perspective
Over the next few months, Pig World will be teaming up with ForFarmers to explore some of the issues around the zinc oxide ban and what the industry needs to do to prepare.
Here, the nutrition company's young animal technical advisor, Emma Slater, explains how it has been working with customers on the subject:
"Some producers have already removed zinc with great success, others are currently looking at ways to remove or transition to half rate and some will continue to use it until 2022.
"The feed industry continues to research alternatives to zinc and gain better insight into the effectiveness of these alternatives. ForFarmers has looked into maximising current diets to improve gut health and reduce the challenge on the newly weaned pig from a nutritional point of view.
"There is no real silver bullet – producers, nutritional experts and vets will need to work together and take a multi-faceted approach to the challenge, including a combination of management practices in addition to the feeding regime."
The EU ban
Zinc oxide products are used to treat post-weaning diarrhoea and bowel oedema disease in young pigs. A typical medicinal dosage is around 2,500ppm.

In July 2017, the European Commission confirmed Member States would have until June 2022 to withdraw zinc oxide products at medicinal levels in piglet feed.

Zinc can still be included as a feed additive at up to 150ppm.