The impetus in pork sales recorded in the latter half of 2017 seems to have faded in recent weeks, according to the latest data from Kantar Worldpanel.
In the 12 weeks ended 25 February, fresh/frozen pork sales volumes were 3% lower year on year. However, the value of the market was still 1% higher than 2017 levels across the period, as average retail prices increased by 4%.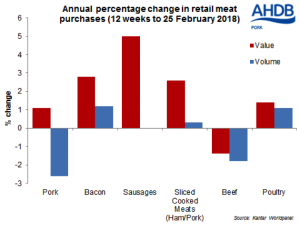 The market seems to have particularly slowed in the most recent 4-week period, with pork sales volumes down 5% on last year. This also translated into a 1% decline in value terms.
Inflation in the market may be influencing sales. Looking at individual pork cuts, those that recorded the largest increase in retail price (loin and shoulder roasting, marinades and belly) also recorded the largest decline in sales volumes. While pork, beef and lamb sales volumes have all been falling, as retail prices increase, chicken has recorded the opposite trend. In particular, there has been an 18% increase in in-store promotions on chicken breast; the average price of fresh chicken breast fell 3% over the most recent 12-week period. The increased price competitiveness of this rival protein may be limiting demand for pork at present.
Nonetheless, processed pork did continue to record some growth over the most recent 12-week period. Bacon in particular recorded a modest 1% growth in sales volumes, with rising prices boosting this to 3% in value terms. Ham and sausage sales volumes were also more stable, though again there was growth in value terms due to higher average retail prices. Overall, this meant total pig meat retail sales volumes were stable on year earlier levels during the period, and higher prices meant the market value grew by 3%.