Japan's total pig meat imports (including offal) were up just under 1% year-on-year in the first half of 2019, at 602,700 tonnes. A slight decline in average prices meant the total value of these imports remained stable at ¥298.5 billion.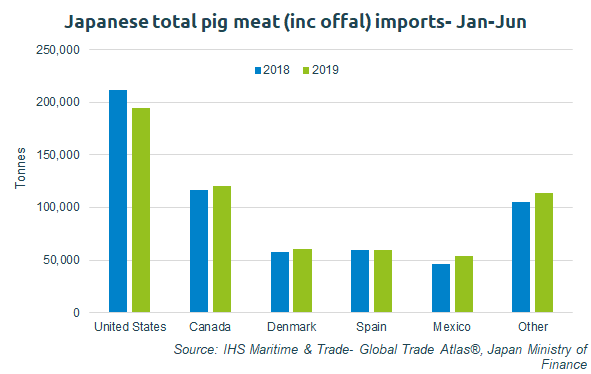 Nearly 80% of imported pig meat is fresh/frozen pork. These shipments alone were up 3% to 471,200 tonnes. Processed pig meat imports were around 10% lower than last year
The US remained the main supplier of pig meat, but these imports were down 8% year-on-year. It is suggested that this is likely related to more favourable trade agreements with other regions coming into force.
The Comprehensive and Progressive Agreement for Trans-Pacific Partnership came into force on December 30, 2018. This trade agreement lowers tariffs on pork imports from various countries around the Pacific but does not include the US.
Of the countries involved, imports have increased from Canada (+3%), Mexico (+14%) and Chile (+20%).
The EU-Japan trade deal also came into force on February 1, 2019. Japan has also increased shipments from a number of EU states, including Denmark (+5%), the Netherlands (+20%) and Germany (+28%).
AHDB analyst Jennie Tanner said: "An increase in imports is expected this year, to meet the demand set by an increase in consumption. Rabobank anticipate 2% import growth for 2019 overall; similarly, the USDA expect a 3% increase. Pork production in Japan is expected to be flat in 2019.
"Looking forward, prices of pork globally are expected to rise, with a shift towards supplying the Chinese market. So if Japan is to continue importing more product this year, this could come at a price, despite reduced tariffs from the free trade agreements."