The UK's pork export market performed well again in June, with fresh/frozen pork shipments 10% higher than a year earlier, at 18,400 tonnes. This approached the volume seen in June 2016, when China last increased its imports due to a sow shortage.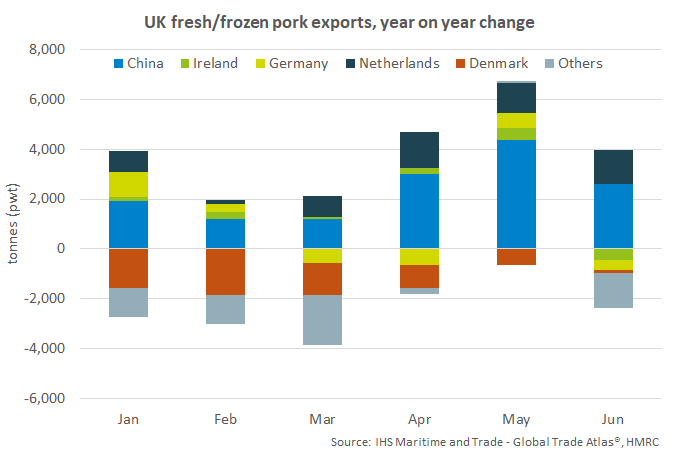 Average export prices were also higher, boosting export value by nearly a quarter, to £28 million.
Growth in shipments to China underpinned overall exports. Volumes nearly doubled compared to a year earlier, at 5,300 tonnes, while trade with other countries generally lost ground.
UK pig offal exports picked up too, by 8% on June 2018. Although a mixed picture, trade with China and Hong Kong grew by enough to increase volumes overall.
AHDB lead analyst Duncan Wyatt said: "Fresh/frozen pork imports in June were 21% lower than a year ago. There were lower imports from all but two of the top ten partner countries, in particular, Denmark (-30% or -3,750 tonnes), and Germany (-21% or 2,000 tonnes). Average import prices were 13% higher, deterring volumes."