The UK pork trade in February was more subdued than January. Imports were still higher year-on-year, but export volumes were lower, despite a higher value. This is perhaps indicative of stockpiling efforts by processors preparing for the original Brexit date at the end of March.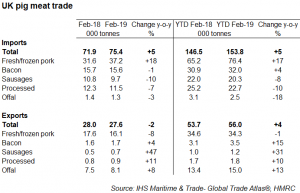 Total pig meat imports were up in volume and value. Imports for February reached 74,100 tonnes, up 5% with a value of £179.8 million, up 2%. Fresh/frozen pork drove this change, with shipments up 18% to 37,200 tonnes. Although typically a relatively small component of British pork imports, frozen boneless cuts increased disproportionately. At nearly 5,000 tonnes, volumes more than doubled compared to February last year.
Most of the additional pork came from Germany (+61%, 3,100 tonnes), though shipments from Denmark and Ireland were also higher. However, imports were lower from the Netherlands, France and Italy.
AHDB analyst Bethan Wilkins said: "The value of UK pig meat exports (excl. offal) in February was up 7% year-on-year to £33.1m, but volume was down 5% to 19,400 tonnes. Over 80% of the volume is fresh/frozen pork, and this product followed a similar trend. Volume was down 8% but value up 5% to £23.8m.
HMRC data records an unusually large decline in pig meat shipments to Denmark during the month. Volumes were down almost 70% to under 900 tonnes, the lowest volume reported in any month since July 2016.
Ms Wilkins added: "Nonetheless, pork exports to China remain higher than last year. Volumes increased by 28% to 4,000 tonnes. Volumes of pork sent to China, therefore, approached the volume of pork and other pig meat products traded with Ireland, which remained flat at 4,400 tonnes."
Exports of pig offal for February were up 8% overall at 8,100 tonnes. Value also increased by 5% to £7mn. There was a notable increase of 42% in volumes going to China, reaching 3,900 tonnes. This counteracted a sharp decline in shipments to Hong Kong (-1,000 tonnes). ASF is likely to continue the higher level of exports to China this year.