GB pig feed production during the third quarter of this year increased by 6% on the year, totalling 482,300 tonnes, according to the latest data from AHDB.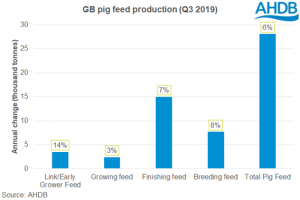 Production of most categories of pig feed recorded year-on-year growth. However, the majority of the uplift came from finishing (+15,000 tonnes) and breeding (+7,700 tonnes) feeds.
The uplift in feed production has mirrored the growth in production. During the third quarter, UK pig meat production was up by 4% on last year. Average finished carcase weights were on average 1.8kg/head (2.1%) heavier than last year. Additionally, throughputs were also up (3%) on the year.
The combination of more pigs finished at heavier weights will have supported demand for finishing feed. Lower feed prices this year have perhaps also encouraged producers to be less cautious about feed usage.
AHDB analyst Felicity Rusk said: "We also believe that the breeding herd has grown modestly over the past year, which will be supporting demand for breeding feed."
Cereal usage
In total GB feed production* during Q3, maize inclusion has remained elevated. At 106,000 tonnes, this is 14% more than in the same period than last year.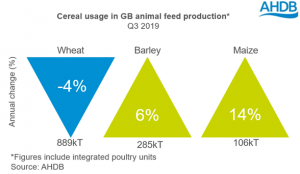 Ex-farm feed barley prices have been tracking below the price of imported maize since the start of February. This has encouraged feed producers to increase usage of barley in rations.
The increased usage of barley and maize has offset a reduction in the use of wheat, which fell by 4% on the year, to 889,000 tonnes.
*Figures include integrated poultry units