For the first time, the biennial Pig Fair will feature an Innovation Trail whereby visitors can easily identify new products and developments.
"With producers' time so precious, we decided to create the Innovation Trail to make it easier for visitors to plan their day and take home fresh ideas to benefit their business," fair organiser Alice Bell says. "All the innovations featured have been launched within the past year, so are truly new to the market."
In a recent survey carried out by the Royal Agricultural Society of England, farmers placed networking and cutting-edge innovations as their top reasons for attending the event.
"In 2014, almost two-thirds of visitors came to see new products and nearly three-quarters planned to make changes to their business as a result," the commercial director of show partner ABN, Kevin Sketcher, says. "With its theme of innovation and technology, there'll be plenty of new ideas, products and advice on offer, helping pig producers to harness the tools and knowledge required to drive their businesses forward."
So, what innovations will this year's fair have on offer? Here's a selection to whet your appetite.
Crystalyx Piglyx
(Caltech Crystalyx)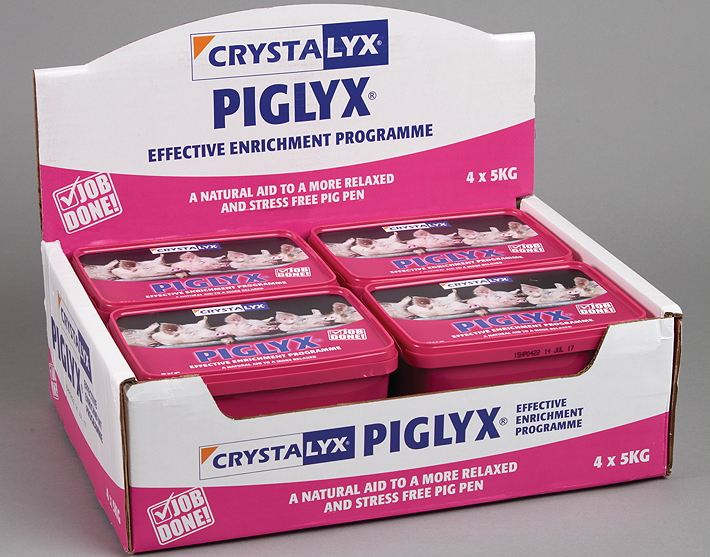 Crystalyx Piglyx is a mineralised molasses lick block that's designed to encourage the natural rooting instinct in pigs. Piglyx has been extensively researched and has been found to have a calming influence, leading to a more relaxed, enriched and stress-free pig pen. This is a natural and effective way to help reduce financial losses resulting from tail biting.
Nature Perfect
(Biolumen Lighting Solutions)
Nature Perfect LED Luminaire has a double-peak blue wavelength of light that accommodates the spectral sensitivity of pigs. This light is currently in trials, and early results show that it keeps pigs much calmer, potentially reducing aggressive behaviour. Trials are now being extended to the slaughter stage.
Farmex Data Services
(Farmex)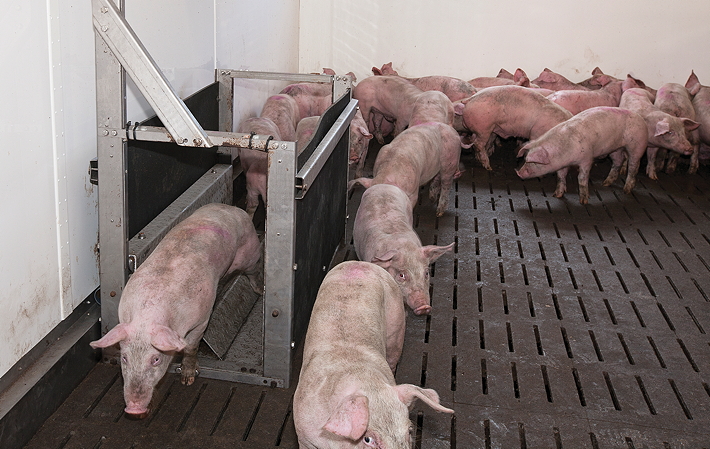 Farmex Data Services is the newly established customer support component of the GuardianACTION real-time information system for pig producers. With no shortage of data, what producers need is proactive customer support to help them translate their figures into improved production efficiency and business performance. The team, based at Reading, works with the company's system users to ensure maximum value is derived from real-time monitoring.
Hot-water high-pressure trailer
(Karcher (UK) Ltd)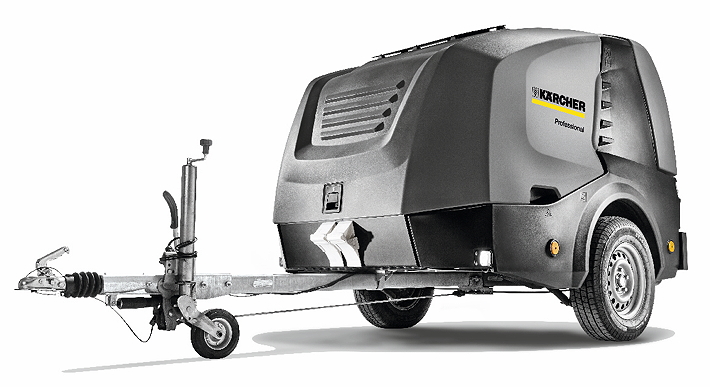 Kärcher's HDS trailer-based hot water high-pressure cleaners are extraordinarily mobile and user friendly. Reliable and efficient for use in tough environments, they're ideal for rural and remote locations. A heat exchanger uses the pump motor's heat to pre-heat the water, reducing fuel consumption by up to 14%. Trailers are also equipped with an eco mode, in which the water temperature is kept at a constant 60C. This is sufficient for most cleaning tasks and helps save energy.
Pigs IDAL – Intradermal Application of Liquids
(MSD Animal Health)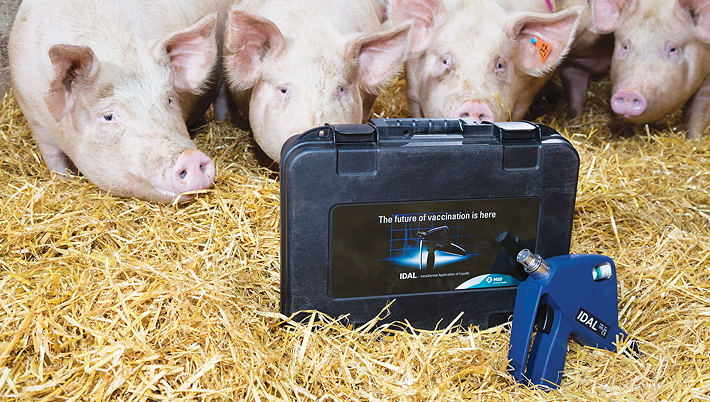 Needle-free, intradermal vaccinations for piglets and sows, IDAL is scientifically proven to be effective and safe. With easy handling, cleaning and less maintenance, there's one compact device – no tubes, extensions, or heavy gas bottles. Operator and animal friendly, IDAL can be used for a range of vaccines. It has a fixed low volume of 0.2ml, and results in better hygiene with less spread of disease.
Neubacid & Clorious2
(Brenntag UK & Ireland)
Clorious2 is a ready-to-use, safe and transportable chlorine dioxide solution. Neubacid, an organic acid blend, helps control pH levels in drinking water and aids digestion. The combined benefits of both provide a unique and effective solution for animal drinking water. It is dosed through a specially designed unit that delivers the product in a safe, efficient manner.
Portapig Rescue House
(Finrone Systems)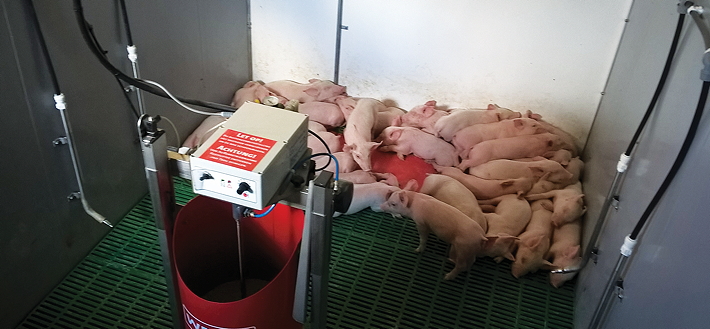 The Portapig Rescue House allows you to side-track your smaller piglets at weaning to give them high-quality feed and care, which enables them to rejoin the weaning batches at a heavier weight. Piglets enter the house at 4kg, and in about two weeks rejoin the main weaners at about 9kg to 10kg. This can dramatically reduce the number of days smaller piglets take to achieve slaughter weight, and farmers can expect mortality rates to be reduced by as much as 60 to 70%.
UltraSorb
(Micron Bio-Systems)
UltraSorb is a species-specific product line developed to reduce the impact of mycotoxins on livestock production and health. Ultrasorb S is formulated to address the toxins that are most critical to pigs. Bioactive ingredients bind, transform and degrade mycotoxins in the digestive tract, while essential oils and flavours promote palatability and protect against the adverse effects of toxin-forming moulds that may be present in feed.
Nedap Farrowing Pen Feeding
(Jenisys (Contracts) Ltd)
Nedap Farrowing Pen Feeding is a labour-saving, automatic individual feeding system for farrowing and lactating sows. The feed quantity is precisely tailored to the sow's age, condition, number of piglets and lactation stage. Multiple feeds per day encourage a higher feed intake and milk production. Offering considerable labour savings, it can be fitted to all makes of farrowing pen and feeding systems. It can also be used in the breeding area. Healthier sows in better condition lead to improved performance in the next gestation.
Spread-a-Bale
(Thomas Storey Fabrications Group Ltd)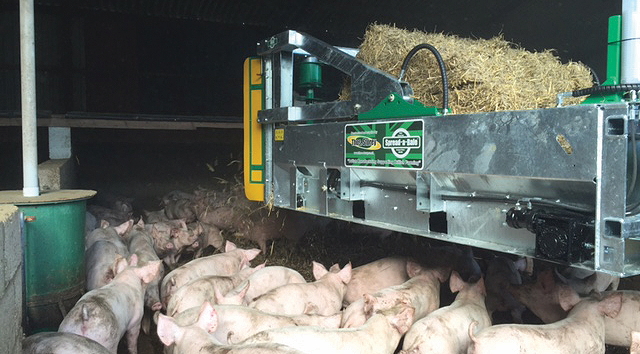 Spread-a-Bale's new galvanised models enable pig farmers to bed down pens/arcs quickly and simply, using entire straw (which greatly reduces dust levels when spreading) that stands up in the bed and keeps animals clean and healthy for longer, while using straw far more efficiently. Being galvanised, the models have lifetime protection against the corrosive materials they come into contact with on a daily basis, ensuring optimum working life and return on investment.
LED Lighting Chain
(LSL Co UK Ltd)
A plug-and-play festoon LED lighting chain that's very durable and comes in varying lengths of 3m, 9m, 15m and 30m. This low-cost system is simple to put together with its quick plug and socket arrangement. The festoon cable is flat, making it easy to clip direct to a surface, or it can be cable tied or suspended. Designed for 10W or 15W E27 LED lamps – equivalent to a 60W or 100W bulb with a 40,000-hour life. It's also waterproof to IP55.
Manitou TMT 27P
(MEB Equipment)
The boom of the Manitransit requires less maintenance than a masted machine. It has no chains or bearings, and only 11 grease nipples, making this machine a lot easier to clean than a masted machine. It's also 600kg lighter for the same lift capacity. Tailored finance packages are available from one to six years.
Flex-Auger High Capacity
(Roxell)
As the livestock industry invests more and more in bigger housing or multiple houses per site, it therefore needs a transport system with an increased feed capacity. The Flex-Auger High Capacity with Densicor tube has a capacity of 10t/hr and a running time of four hours a day. It has a wear-resistant polyethylene tube to ensure optimal durability and is incredibly robust.
The British Pig & Poultry Fair, partnered by ABN, will be held at the National Agricultural and Exhibition Centre, Stoneleigh, Warwickshire, on May 10-11, 2016. To find out more and register for free entry to the fair, visit: www.pigandpoultry.org.uk