Paul Harris, founder and CEO of REAL Success, a leading provider of recruitment and people development services to the agriculture sector in the UK, sets out the 10 priorities to consider in attracting and retaining staff.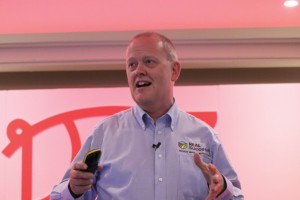 Paul Harris, CEO and founder of REAL Success, delivered a convincing and engaging message to the pig sector about recruitment, when he spoke at the Pigs Tomorrow conference in May.
Emphasising the importance of individual business reputation, he asked producers whether they had the basics in place to attract and keep the best employees on their farm. "Recruitment is highly competitive," he said. "Most candidates have more than one job they are considering, so your farm needs to stand out in their minds."
He suggested 10 'foundation stones' to make farms more attractive to new staff and make the best people want to stay:
1 –  Reputation
What do people say about your farm? Are you known as a farmer who invests in their staff or as someone who constantly complains about labour issues? Would you want to work for someone who constantly complains about their team or someone who speaks positively about their staff?
2 – Online Footprint
What do we find when we Google your business? Do you have a website? A Facebook or Instagram page? We need to engage with the public and not be scared to promote what we do.
3 – Advertising
Remember that your advert is designed to get people to apply, so 'sell' your position to potential candidates and include the important details about your farm, the role, the benefits you'll offer and your location.
4 – Animal Welfare
Is your farm set up for the highest animal welfare standards?Prospective candidates will assess your animal welfare standards against other farms they visit, and those working on your farm will quickly decide if they want to stay on a farm with poor welfare standards.
5 – Housing
Providing housing for staff is one of the most under-promoted aspects of working on a farm – worth between £10-15,000 a year as part of a package. However, the quality of your housing will hugely impact the decision to join your business or stay working for you.
6 – Farm working conditions
Do you have a fully functioning working toilet with hot water and clean towels on your farm? Do you make provision for the needs of female staff? Is your staff room dirty and containing the furniture you'd planned to take to the tip? Safe, clean and pleasant working conditions will show prospective and existing staff how much you value them. It doesn't have to be luxurious, but basic warmth, comfort and cleanliness cost little and are key to retaining your staff.
7 – Working Hours
It's no use complaining that staff won't work 80 hours a week like you used to or are still prepared to do. The pork sector competes with roles where prospective candidates could work 40 hours and get weekends off. You may need more people, but they are more likely to stay if their work-life balance is respected.
8 – Salary/pay
Money is rarely the reason people leave or choose a farm. Be competitive and remember to build in any housing provided into the overall package. If you're paying salaries, watch hours worked too, or you may be paying below minimum wage.
9. First Impression
Is your farm tidy and welcoming to anyone arriving for the first time? Do you have rusting machinery piled up or a filthy and disorganised workshop? Does your farm drive suggest this is a well-run farm that's been invested in, or a tired and run-down farm lacking care and investment? Prospective employees will decide whether they wish to work on your farm in the first few minutes after arriving, so ensure you're ready for their arrival and your farm looks its best. Existing employees will take pride in their workplace if you take pride in your farm too.
10 – Training and development
Many farms complain that they invest in staff training, and then the staff member decides to leave.But what happens if you don't invest in training your staff and they stay? You end up with poorly trained staff, whilst the farm down the road has well-trained, fully engaged staff working for them. Investing in staff development ALWAYS pays off in loyalty or your reputation. How much time and investment are you putting into your team?