According to the latest figures from the USDA, the size of the US pig herd increased by 2% in the year to December 2018. There was a similar increase in both the breeding and fattening herds.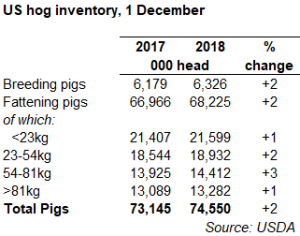 The increase comes despite the fact that lower pig prices mean producer returns have been much worse than in recent years. Nonetheless, with pig prices starting to rebound following the ASF outbreak in China in August, large reductions in the herd size have not been anticipated. Improved producer sentiment could mean the expansion continues into 2019 as well, given the potential for stronger exports on the back of ASF related disruption in China, and further increases to slaughter capacity. The number of sows expected to farrow in the winter and spring quarters are up 1% are 3% respectively, further suggesting there is some optimism in the industry moving forwards.
Despite the continued expansion, the latest pig crop figures indicate a slowdown in improvements to herd performance. The number of pigs weaned per litter between September and November averaged 10.76, only marginally higher than the previous year and the slowest year-on-year growth since the PEDV challenges in 2013/14. Although, as is the typical trend, the figure was still higher than the 10.72 recorded during the summer.