AHDB Pork will hit television screens again this autumn and is set to position pork loin medallions firmly in the mind of the family cook as the perfect choice for a midweek meal.
Following the successful Pulled Pork campaign of 2015 and 2016, the Midweek Meals campaign will continue to rejuvenate the image of, and market for, pork.
The fully integrated marketing campaign from AHDB Pork, with support from Ladies in Pigs (LIPs) will combine public relations, social media, online and print advertising, in-store retail activity as well as that all-important TV advertising campaign to demonstrate the versatility, ease of cooking and great taste of pork loin medallions when used as the basis of a midweek meal.
While the finer details of the campaign are still being discussed, the planning process is well under way with new recipes being developed and consumer tested, food photo shoots taking place and advert concepts being presented to focus groups of would-be consumers ahead of filming the TV advert this month. The advertising will focus on communicating the flavour of pork loin medallions while demonstrating that, like chicken, it can be quick and convenient to prepare and cook.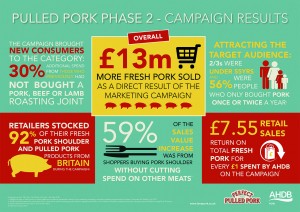 The increase in the number of young, one- and two-person households, alongside a greater appetite for world cuisines and a desire for 'meal solutions' has had an enormous influence on the type of food that British consumers like to eat. It's a long-term and growing trend that's affecting the industry and AHDB Pork has recognised that, with greater available choice comes a need to inspire consumers to consider a pork dish as one of their midweek meals.
The AHDB campaign will tap into these emerging trends by providing recipes and cooking tips that reflect modern tastes and lifestyles. Consumer insight analyst Kantar Worldpanel identified that the average time spent preparing food has halved from 60 minutes to 30 minutes since 1980. With this in mind, the campaign will feature recipes that respect family cooking time constraints. Providing imaginative ideas and advice will help to break down any negative perceptions and barriers people might have around cooking with pork and, more importantly, make it relevant during midweek. Health messages about loin's low fat content will be communicated as an added bonus.
Kirsty Walker, AHDB head of pork domestic marketing, said: "British retail sales of fresh pork have been in decline for many years. The decline has accelerated in the last two years, despite falling pork prices.
"Much of the decline is due to a fall in the number of households buying pork during the course of the year. Slowing this decline and adding value to the cuts purchased is going to be crucial to the future of the UK pork industry."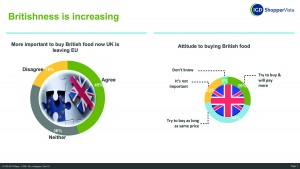 According to research from market intelligence provider Mintel, consumers' main criteria for defining quality was British/local followed by flavour. Interestingly, consumer research specialist IGD found that 73% of meat shoppers would try to buy British pork; furthermore 45% of consumers said that, following the Brexit vote, buying British is more important to them than before.
Ms Walker said: "We know from our consumer research that we can get 'stuck in a rut', cooking the same few dishes week-in, week-out. While routine is important, consumers have told us they are looking for midweek inspiration and this is what our campaign will be delivering in spades.
"While the flagship dishes in the TV and PR channels will be using loin medallions, loin steaks will not be overlooked, as they offer choice for consumers who prefer the look of a steak and like to buy meat with a bit of fat on."
The challenge
Domestic consumption of fresh pork, from which the industry derives most value, is under pressure with retail sales volumes generally falling despite lower average prices. This is due to a perceived lack of relevance in modern eating habits in terms of versatility, suitability for any day of the week and potential concerns about health.

The need
Obtaining maximum value from the production and sale of the whole pig is vital to ensuring the English industry remains competitive. AHDB Pork will help the industry better understand the value that consumers place on British pork production, not least origin and ethical production, which are important attributes after price and appearance.

How will we do it?
* Rejuvenate the image of pork in the British market
* Communicate benefits of pork consumption
* Promote exports of pork and pork products in existing and emerging markets
* Provide consumer insight to help businesses make good decisions.

What targets have been set?
* Improve the image of midweek pork dishes by 2% (measured by consumer attitude tracking surveys)
* Assist the value growth in pork exports by 35%
* Increase retail penetration and frequency of purchase of loin medallions. Ambitious targets to be announced on completion of some market research results.