Industry organisations are providing updated advice and are urging producers to have contingency plans in place 
While the picture is certainly worrying, it is not inevitable that ASF will reach the UK. But it will only take one mistake – a ham sandwich taken on to a pig farm, a worker returning from an infected region carrying the virus on their clothes, contaminated food waste fed to a pet pig or wild boar accessing infected food in a bin.
With this in mind, industry organisations are upping their communications to get the core messages across.
"We are urging producers to do their best to keep the disease out but also to prepare for the worst if the virus does make it here," NPA chief executive Zoe Davies said.
FEEDING INFECTED MEAT
The most likely route of infection is infected meat, as has been shown during the virus's spread across Europe.
All pig keepers and the public must ensure domestic and feral pigs are not fed, or do not have access to, pork products and catering waste/ kitchen scraps, including from vegetarian kitchens. It is illegal under the swill feeding ban.
Pork should not be taken onto farms and meat or meat products must not be taken into areas where pigs are kept. Food should only be eaten in designated areas on farms.
Pig keepers, staff and anyone in contact with pigs should wash their hands before and after eating or preparing food.
VISITORS TO THE FARM
All pig keepers should ensure that visitors have not recently visited affected regions and confirm by signing the visitor book when they arrive.
Anybody returning from an affected EU member state should avoid contact with pigs for at least 72 hours and until they are confident they have no contaminated clothing, footwear or equipment.
Use dedicated clothing and boots for everyone coming onto the farm.
CONTINGENCY PLANNING
The NPA has updated its contingency planning briefing on its website, which explains in detail what happens when a notifiable disease is confirmed in the country and on an individual's unit and what producers will need to do in various circumstances. It is urging producers to make necessary preparations, including:
Preparing a contingency plan in the event that restrictions prevent pigs being moved off farm.
Putting signage up around footpaths and farm perimeters telling people not to feed pigs. Familiarising yourself and
your staff with the symptoms of ASF.
THE SYMPTOMS
The main clinical signs are fever, loss of appetite, lack of energy and sudden death with few signs beforehand.  Other signs can include vomiting, diarrhoea, red or dark skin, particularly on the ears and snout, discharges from the eyes and nose, laboured breathing and coughing, abortions, weakness, unsteady gait.
Click on the montage below of APHA's images showcasing the symptoms of ASF.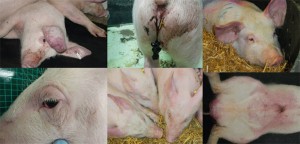 Although mortality in infected animals is almost 100%, the initial rate of ASF spread can be slow, so the possibility of ASF should be considered, even for single pigs.
Pigs suspected to be affected with African or classical swine fever, which has similar symptoms, must be reported immediately to APHA. Failure to do so is illegal.
SPREADING THE WORD
The NPA has been spreading key messages beyond the pig industry, including:
Making the case for effective feral pig control in the Forest of Dean and raising public awareness about the perils of feeding them, including through a poster campaign.
Ensuring the Government's response to the threat is up to scratch, including enforcing border controls.
Discussing biosecurity and contingency planning with processors and raising wider awareness to members of the Road Haulage Association.
FIND OUT MORE
The Animal and Plant Health Agency's guidance, including spotting ASF symptoms: www.gov.uk/guidance/ african-swine-fever. The NPA has set up a dedicated ASF section on its website with the latest news and advice: www.npa-uk.org.uk/ASF.html.
AHDB has advice on biosecurity and a useful video: https://ahdb.org.uk/knowledge-library/african-swine-fever.