In the year to September, Japan's total pig meat imports (including offal) increased 3% to 918,000 tonnes. Import prices have been stable overall, and so the total value of these imports rose by 3%, to ¥457 billion (£3.4bn).
Forecasts of increasing demand, but flat production imply an increased reliance on imports in the future. However, given the significant global pork shortage, it will be interesting to see whether demand growth shifts to other proteins.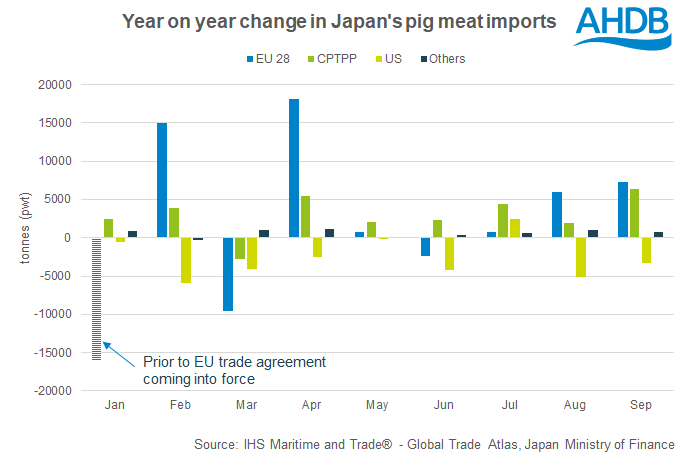 Nearly 80% of pig meat was imported as fresh/frozen pork, with these volumes up 5% compared to a year ago. Processed pig meat imports were around 7% lower than last year.
Although the US remained the main supplier of pig meat, these imports were down 7% year-on-year. The benefits of Japan's other trade agreements continue to percolate.
Volumes from CPTPP* signatories, Canada (+5%), Mexico (+21%) and Chile (+13%), have increased. A number of EU states, again now with more favourable terms, have also increased trade. These include Spain (+9%), Denmark (+7%) and the Netherlands (+17%).
The US may be able to regain some of the lost market share in the coming months. A trade agreement with Japan was signed in late September, which will level the playing field with CPTPP and EU nations once it is implemented.
*The Comprehensive and Progressive Agreement for Trans-Pacific Partnership came into force on December 30, 2018. The EU trade agreement came into force on February 1, 2019.