Chinese pig meat imports declined 10% compared with 2017 levels during the first quarter of this year, according to AHDB figures. In total 324,000 tonnes of frozen pork (-6% year-on-year) and 271,300 tonnes of pig offal (-15% year-on-year) were received during the quarter.
Looking on an individual supplier basis, EU shipments bore the majority of the drop in demand. Overall, pig meat imports from the EU were down 14% (-58,800 tonnes), resulting in their market share declining by two percentage points. In contrast, US shipments declined 11% (-13,700 tonnes), Canadian shipments declined 9% (-6,500 tonnes) and imports from Brazil actually increased by almost 8,000 tonnes.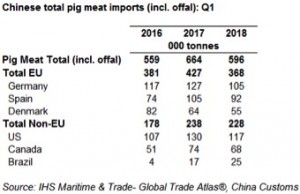 The decline in shipments reflects low domestic pig prices that have characterised the Chinese market in early 2018. Prices have been falling since January, and by week ended 25 April averaged 10.71 CNY/kg liveweight (equivalent to 122p/kg), the lowest price on records going back to 2013. In contrast, last year live pig prices for the same period averaged 15.57 CNY/kg, and in 2016 reached 20.03 CNY/kg. As such, it is likely many producers are now in a loss making situation.
The rate of pig price decline did slow somewhat following the Chinese government's announcement that an additional 25% import tariff would be placed on US pork imports from 2 April. However, prices have continued on a general downward trend, suggesting the level of supply on the market continues to exceed demand.
The oversupply situation is likely driven by production growth exceeding the level of consumer demand. In 2017, the latest USDA estimates suggest Chinese pork production increased by around 1%, and a further 2% growth is anticipated for 2018 (+1.3 million tonnes cwe). This reflects pre-planned expansion in large scale farms, where additional capacity is expected to come online this year. However, the forecast rate of expansion is lower than previously, with depressed pig prices expected to encourage smaller operators to exit the industry.
Meanwhile, growth in demand for pork in China is starting to slow. While pork remains the primary meat for most Chinese consumers, competition from beef, mutton and seafood is increasing. In the most modern cities, consumption of pork is reportedly reaching saturation levels. Similar to western countries, consumers are increasingly switching into seafood and poultry, which are perceived as healthier. Chinese pork consumption is still expected to increase 2% (+1.1 million tonnes cwe) this year, largely in line with the growth in domestic production, but this is expected to be supported by lower pork prices.
As domestic pork prices are anticipated to remain low, with consumption saturating, it seems very likely that import levels will reduce further this year. The latest USDA forecasts anticipate a 6% decline in Chinese pork imports compared to year earlier levels in 2018.
In 2017, the US occupied around 14% of the Chinese pork import market. With their product now disadvantaged by an additional 25% tariff, there may still be scope for other countries to increase pork exports into China if the tariff remains in place. If US pork imports reduced to 25% of 2017 levels this year, with all other shipments remaining stable, Chinese pork imports would decline by over 10%. The US market share is even larger for offal (20% of total volumes), meaning import volumes would reduce by over 22% if US shipments reduced to a quarter. Brazil is likely to continue recording the largest wins, following the loss of the Russian market, though there may be some scope for EU shipments to increase as their production expands.
As ever, there is clearly much uncertainty over how the Chinese market could pan out this year. Further talks may see may see the trade dispute resolved, or escalate further with Chinese tariffs implemented on other products, including soybeans (for more information, click here), which would also have implications for Chinese producer margins. AHDB will continue to monitor the situation, and explore the potential impacts on global pork markets, in the coming months.