The high domestic pig prices seen during the first half of 2020 could be sustained for the rest of the year, according to the latest AHDB quarterly Pork Outlook report.
This optimistic conclusion is underpinned by tight supply, good retail demand and anticipated further export demand and the impact on global prices of the ongoing shortages caused by Asia's African swine fever outbreak. However, the levy body warns that the situation is 'not without risk', including COVID-related imports bans, while Brexit adds an air of uncertainty.
The SPP in the last week of June stood at 165.3p/kg, the highest level this year, up 0.37p on the previous week and 14.4 higher than a year ago. Despite the global market turmoil this year, the price index has risen steadily from around 162p/kg at the start of the year.
EU pig prices have dropped sharply during lockdown, however. By mid-June prices were hovering around €163/100kg. The loss of foodservice demand has led to oversupply problems, with a lot of product going into storage.
As EU prices have dropped while the UK price holds firm, the gap between farmgate prices has increase to about 19p.
You can read the full report HERE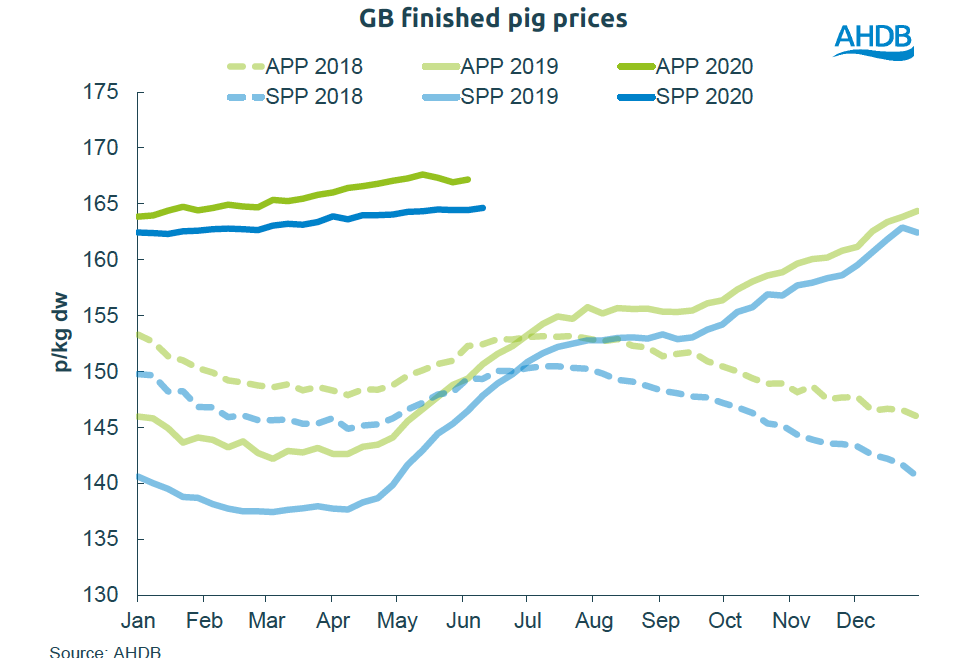 Domestic Demand
Demand has remained solid, despite the closure of most foodservice outlets here and in Europe and some logistical challenges to exports, as strong growth in retail sales has filled the gap.
In the 12 weeks to 7 May, reversing the trend of earlier in the year, total pig meat sales increased by 14% in volume and 22% in value, with sausages and bacon seeing the biggest overall growth. Preliminary AHDB estimates suggest this level of volume growth has compensated for the loss of the foodservice market.
The growth has been sustained – the latest Kantar data, presented by AHDB, shows for the week ended June 28, primary pork volumes were up 17.5% year-on-year, bacon up 22% and sausage up 16%.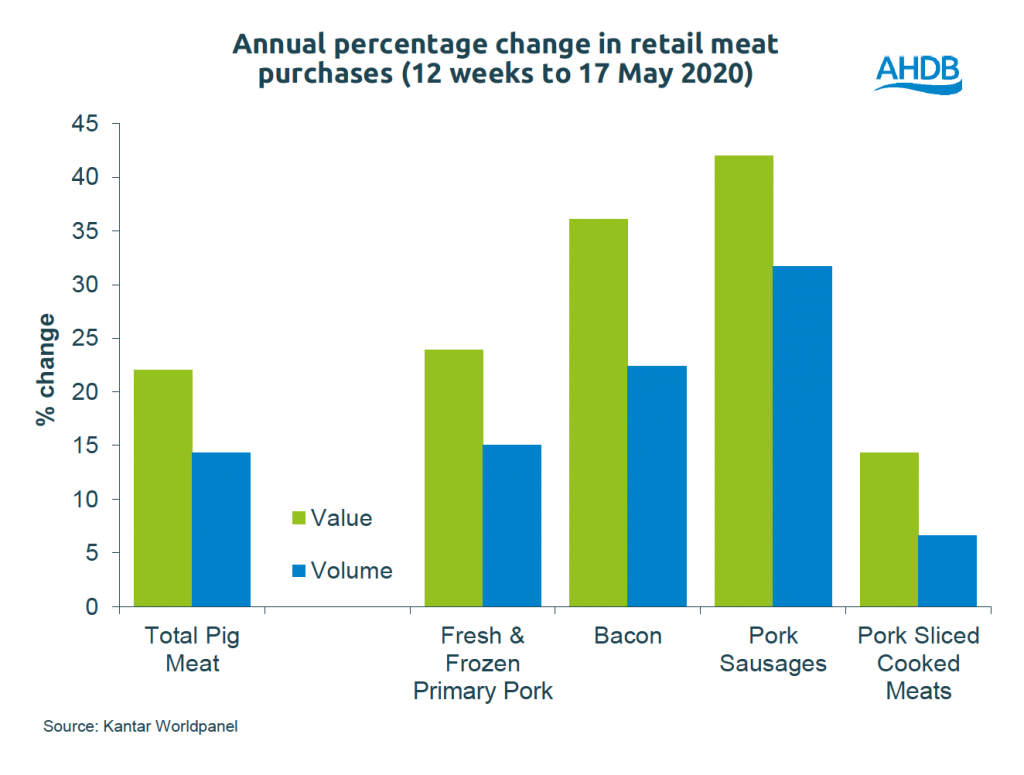 Production
UK pork production is forecast to increase by about 4% this year, reaching 989,100 tonnes, due to a combination higher slaughter levels and rising carcase weights.
Clean pig slaughter levels are currently quite tight, driven by historic production challenges. However, overall AHDB still expects slaughter to be higher in 2020, with throughput expected to reach 11.1 million head, about 2% above year earlier levels.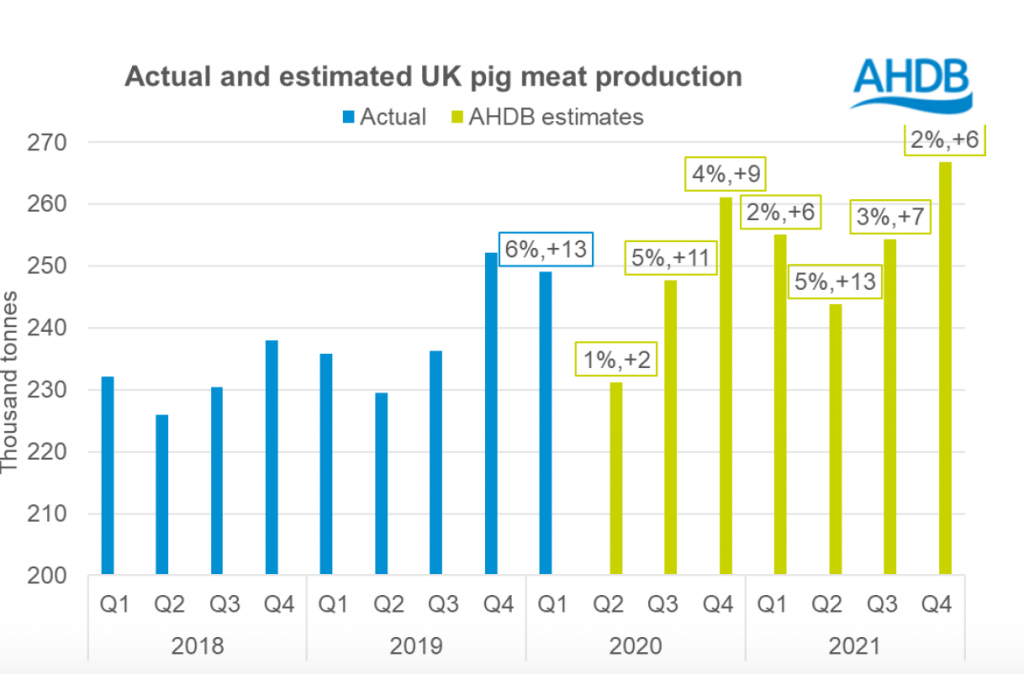 Clean pig slaughter in the year to May totalled 4.57 million head, 3% higher than the same period last year, stronger growth than AHDB had anticipated. It has revised its sow herd estimate upwards on the back of what it believes was a 3% increase last year.
It also believes there has been some improvement in herd performance, although anecdotal reports on this have been 'somewhat mixed' and Agrosoft data suggests pigs sold per sow has not been improving since mid-2019. Nonetheless, AHDB estimates pigs sold per sow was probably about 1% higher in late 2019 and early 2020.
Carcase weights have been some of the highest on record this year. Between January and April, weights remained above 86kg, 1-2kg above year earlier levels. This has accentuated the increase in slaughter, with production 5% higher than year earlier levels between January and April, at 342,200 tonnes.
This growth in carcase weights is largely expected to continue, reflecting the genetic potential of the animals and the fact that some producers are now able to achieve contracts with higher upper weight limits.
Trade
Imports: AHDB anticipates UK pig meat imports will be about 5% lower in 2020 than in 2019, at 898,000 tonnes, while export volumes are forecast to rise by a further 6% to 307,000 tonnes.
HMRC data shows the UK imported 273,000 tonnes of pig meat (including offal) between January and April, 51,000 tonnes less than in the same period last year.
Most products recorded a decline, but fresh/frozen pork showed the largest drop. The decline partly reflects relatively high imports at this time last year, due to Brexit stockpiling activity. However, demand was also falling early in the year, while the collapse of foodservice demand has also affected import levels.
The AHDB forecast assumes the eating-out market can recover to half of last year's level for the rest of 2020, but it is possible volumes could be lower than this.
It also expects China to continue to draw product from the EU market, which should limit the pressure from cheaper EU pork.
Exports: In contrast, UK exports of fresh/frozen pork increased by 7% across January-April, totalling 81,000 tonnes. This growth continues to be driven by Chinese demand, with UK shipments 75% up on the year during the period. Exports of processed products fared less well, but pig meat exports were still up 4% overall at 93,000 tonnes.
The ongoing shortage of pork on the Chinese market will continues to ofer opportunities for UK exporters. "However, the trading environment is more challenging this year. Prospects will depend both on how China and other exporters handle the coronavirus outbreak as this will affect the level of competition and demand," the outlook report says.
However, it expects export prospects to improve towards the end of the year, prompting the 6% growth forecast.
Price outlook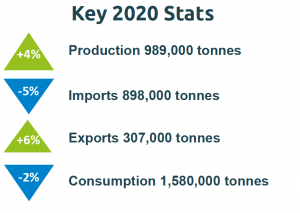 Combining all factors, the outlook report is upbeat on pig price. "So far this year, prices have shown little movement, remaining at a generally elevated level. It seems feasible that the situation will remain similar for the rest of 2020," the report states.
"At present, the short supply of British pigs, strong retail demand and good export prospects are providing market support.
"Although pig supplies are expected to increase again later in the year, we also expect export prospects to improve as the year progresses, which should help absorb extra supplies.
"Improvements on the Chinese market would also help support the EU market, limiting the risks of competition from lower-priced EU pork. Fundamentally, there continues to be a global pork shortage."
AHDB stresses, however, that its forecast uses an optimistic demand scenario for COVID-19 recovery and assumes continued free access to EU market after January 2021.
"However, the situation is not without risk. High pork prices are largely contingent on good export prospects to China – if demand, or the ability to supply this market, is significantly disrupted, prices would come under pressure," the report adds.
"Increased restrictions on trade with this nation, for example due to further spread of African Swine Fever in Europe, or a significant second-wave of coronavirus infections in China, are examples of plausible developments that could be disruptive."
The report also notes that Chinese pig herd rebuilding is well underway, so there is a reasonable expectation that price levels will start to moderate next year. The extent of this impact in Britain will depend on our trading relations with the EU and elsewhere, the report adds.
"Increased import barriers would be price supportive as the UK is a significant net importer of pig meat, but tariff-free access for low-cost producers could erode," it says.