The Government was urged not to rush into banning farrowing crates, as the issue was briefly discussed in the House of Commons on Wednesday.
Conservative MP Sir David Amess called for the Government to use Brexit to push through a ban on farrowing crates as he introduced a Ten Minute Rule Bill, Pig Husbandry (Farrowing), on Wednesday.
But, responding, fellow Conservative MP Sir Edward Leigh said a ban would not improve piglet welfare and said more time was needed to look at alternatives and ensuring a UK ban does not simply mean more imports of pork from systems where farrowing crates are allowed.
While Ten Minute Rule Bills rarely become law and take up very little parliamentary time, they are used to raise awareness of certain issues, and the Bill did generate some publicity from groups pushing for a ban, including Compassion In World Farming (CIWF) and the Conservative Animal Welfare Foundation.
Sir David (below) said the aim of his Bill was to 'prohibit the cruel and unnatural use of farrowing crates'. He said a range of free farrowing pens which provide more space for sows has been developed, by innovative British engineers, scientists and farmers.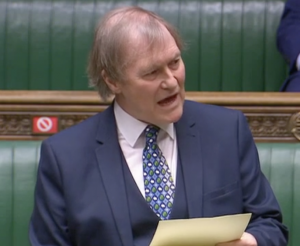 He said scientific research shows that in well designed and well managed free farrowing pens piglet mortality 'can be as low or even lower than in conventional farrowing crates' and have also been shown to 'improve productivity and provide many benefits for sow welfare'.
He said AHDB data show that piglet mortality has actually 'been lower in outdoor systems than in indoor systems in 19 of the last 20 years', a claim based on calculations by CIWF that combine data on stillbirths and pre-weaning mortality. However, stillbirths tend to be under-reported on outdoor units, so the comparison is questionable.
"This is a great opportunity to improve the welfare of British sows, enhance our country's reputation for advancing animal welfare and support the ingenuity of British developers," Sir David told MPs.
Quoting Prime Minister Boris Johnson's comment in the Commons that 'here are measures we will be able to implement as a result of Brexit—such as banning sow farrowing crates', he added: "We must not waste the monumental opportunity provided by Brexit to position Britain as a global leader on animal welfare. This Bill is a significant step in delivering on that promise."
Farmers' voice
The counter argument to retain farrowing crates was delivered by Sir Edward (main picture), who said he wanted 'the voice of farmers' to be heard.
"I am wholly in favour of any measures to try to improve animal welfare. I love animals as much as he does," Sir Edward said. "However, I disagree about the best way to achieve it when it comes to the issue of piglet welfare."
He said the real reason the Bill was 'not appropriate is that alternative farrowing systems simply allow too many piglets to die'.
"I have spoken with the National Pig Association. It tells me that, if the Bill passes in its present form, it could result in up to 1 million baby piglets dying each year," he said.
Stressing that he 'fully understands' the problems of existing farrowing crates, he said acceptable alternatives simply do not exist at present. "Too many piglets will simply die if this Bill becomes law, and we know that solving one problem by creating another is generally not wise. That is what this Bill would do," he said.
He highlighted the 'great damage' the 1999 sow stall ban inflicted on the UK pig industry, which was 'pretty much cut in half', as the UK 'then imported larger and larger quantities of EU pork using the very stalls that were illegal in the UK'.
"Progress is constantly being made in the British pig sector and, in terms of animal welfare, it is far ahead of most other pig-producing countries in the world. It should be said that 40% of the national sow herd farrow freely outdoors in outdoor pig units," he said, adding that the industry 'needs time to find solutions that bring down pig mortality'.
"These crates were introduced to save piglets' lives," he said. "They were not introduced out of cruelty. They were introduced by farmers who love their animals and are absolutely committed to animal welfare. The present system, therefore, is right for animal welfare. It avoids deaths."
He insisted the best way forward was to continue discussions with the industry. "We have to think about stock person safety and the mental wellbeing of farm workers. We have to look at alternatives and possible trade deals and equivalence. All these issues are very important," he said, adding that the Bill is not ready to become law yet. "Let us work together to protect pigs wisely and not rashly."
Minister's view
Separately, in response to a written Parliamentary Question, Farming Minister Victoria Prentis made it clear that, following discussions with the pig sector, Ministers understood the need for any change to be done in a way that is 'sustainable' for the industry.
"As stated in Defra's new pig welfare code of practice, which came into force in March last year, our aim is for farrowing crates no longer to be necessary and for any new system to protect the welfare of the sow, as well as her piglets. Any change also has to be done in a way which is sustainable for the industry and we are exploring the options," she said.