Exports of German fresh/frozen pork fell for the third consecutive year in 2017, falling 3% on 2016, to 1.8 million tonnes.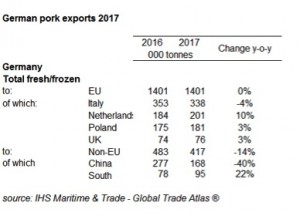 The decline was largely a result of decreased shipments to China, which fell 40%, to 168,000 tonnes in 2017, compared with a year earlier. Weaker export demand from China is a result of the recovery of its own domestic production as modern sows have filled some of the supply gap. Countering the drop in Chinese trade, was an increase in deliveries of German pork to other non-EU countries. Most notably, there was a 22% increase in exports to South Korea, totalling 95,000 tonnes. There were also increases in exports to the Philippines, Japan and Hong Kong.
Whilst the overall volume decreased, exports to other EU member states remained steady on the year earlier, totalling 1.4 million tonnes. Italy remained the largest export market for German pork, although volumes were back 4% on the year. In contrast, the second largest destination, the Netherlands increased its imports of German pork by 10%, totalling 201,500 tonnes.
Imports of fresh/frozen pork into Germany decreased in 2017, with volumes falling 5% on the year to 876,300 tonnes. The major losses were from the two main sources of imports; Denmark and Belgium, which were down 5% and 14% respectively, on the year. Imports from the Netherlands and Poland recorded growth