Pig meat production in the EU fell once again in June, by 5% compared to the previous year, to total 1.8 million tonnes. The number of pigs slaughtered in June also fell, by 6% to total 19.3 million head.
This shows there was a marked increase of over 1kg in carcase weights, which average 92.8kg in June this year. It was the lowest monthly kill of the year so far, indicating that supplies have been tight across Europe. However, there were two fewer working days in the month this year, which will have influenced the decline.
A number of key producers have recorded falling production in June, notably Poland and Germany. The largest decline in volume terms came from Germany, with production down 34,000 tonnes and totalling 398,000 tonnes.
Spanish pig meat production also eased back in June compared to the previous year, after increasing production for much of the year so far.
Out of the top five producers (detailed below), only the Netherlands recorded growth in production during June, up 9% and totalling 128,000 tonnes. The only other significant producer to increase production during June was Italy, up 1% to total 124,000 tonnes.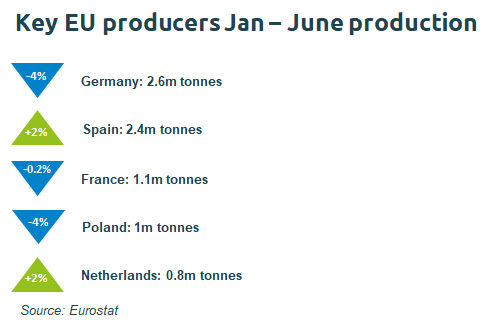 AHDB analyst Tom Forshaw said: "Pig meat production in the EU-28 totalled 11.9 million tonnes for the first half of the year, just over 1% lower than in 2019. Pig slaughter for the same period totalled 127.1 million head, 2% lower than the previous year."