August figures published by Eurostat show a 3% decline in EU pig slaughter compared with the same month in 2018, to 20.7 million head.
Pig meat production in the EU was 2% lower than a year earlier at 1.87 million tonnes. This suggests pigs were slightly heavier in this August than last year. However, it is worth noting that there was one less working day in August this year, which likely reduced overall throughput.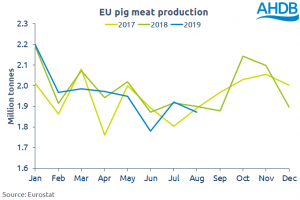 On a per working day basis, EU pig slaughter was 2% higher year-on-year. The improvement in supply levels has probably contributed to the slowdown in price increases apparent since the summer.
During August, Spain recorded the largest decline in pig slaughter (-7%). Such a decline is unusual, given the ongoing expansion in the Spanish pig industry, and perhaps will be subject to revision. However, the summer heatwave may have contributed to some tightening of supplies.
Bethan Wilkins, senior analyst at AHDB, said: "Other noticeable declines were recorded in Poland (-8%), Belgium (-10%) and Denmark (-4%). Higher throughput in other markets offset some of these declines. There was particularly strong growth reported in the Netherlands (+16%)."