The European Commission has published its latest outlook for the EU agriculture sector, which covers all major agricultural outputs, for 2019 to 2030.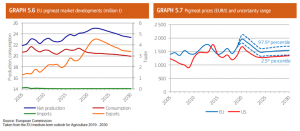 Across the EU, spending on food as a share of household expenditure has been relatively static for the past decade. Foodservice, however, has been on an upward trend over the past few years.
The outlook for the EU pork industry is somewhat more uncertain than for other proteins, the forecast reported, as it is set against the backdrop of African swine fever in China.
From 2021, the European Commission is expecting Chinese pig meat production to begin on the road to recovery. Should ASF be controlled, and if industry restructuring and rebuilding are successful, Chinese pig meat production might recover by 2025, it said.
Growth in EU pig meat production is limited by environmental policy and the presence of ASF in wild boar in eastern and central Europe.
In the short term, EU production is expected to increase in reaction to strong global prices. On the subject of prices, the EU is expecting them to remain high for the first few years of the outlook period. However, they will then decline sharply, following global prices, when Chinese production recovers (around 2025 according to the outlook).