Europe's farming leaders have called for EU legislation to "stamp out unfair and abusive practices" in the food chain, complaining that the current voluntary approach to supply chain issues simply isn't working.
The call, led by Copa-Cogeca, followed a high-level debate in the European Parliament during which speakers from different member states highlighted supply chain concerns which they said were damaging farmers' incomes.
Copa-Cogeca secretary-general, Pekka Pesonen, said that the current voluntary approach to supply chain controls needed to be backed by legislation at an EU level.
"How can a purely voluntary system be effective in this environment and deal with unfair trading practices," he asked, pointing out that such a system left farmers and cooperatives exposed to a "fear of retaliatory action by their clients" if they dared complain.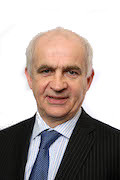 The president of the Irish Farmers Association, Eddie Downey (pictured) agreed: "Ireland like several member states is turning to address issues of unfair trading practices but still it does not go far enough.
"There is no ban on below cost selling and no ombudsman to ensure rules are enforced. The squeeze that is put on farmers returns in a period when input costs are escalating is unacceptable. It should be about giving a fair return to the farmer.
"We are looking for legislation that will enforce fairness not just in a member's home market but across all member states. The agri-food sector will be the driver for sustainable growth in the future but only if we have fairness and transparency in food supply chains.
"We urge the European Commission to come forward with a legislative approach to support the operation of codes of good practice. Nothing else is acceptable"