EU weaner prices have risen sharply this year, according to new figures.
The 30kg average peaked at €58.85/head in the week ended June 9, which is less than €1 behind the record high from April 2017. EU weaner prices have increased by more than 40% since the start of the year.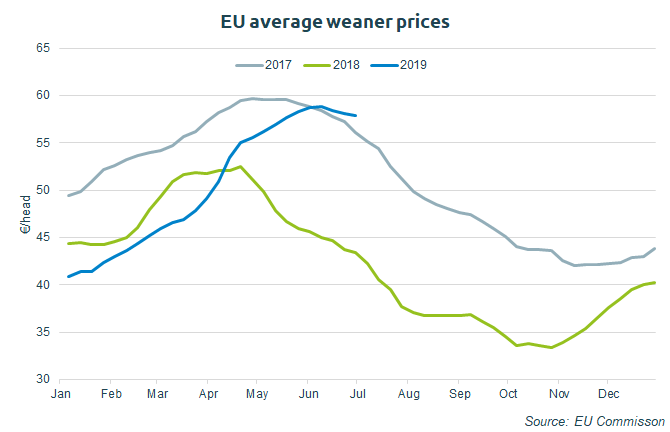 Prices typically turn upward in spring; however, the rise this year has been particularly strong. The uplift reflects a similar trend in the finished pig market. Strong demand from China in light of African Swine Fever and a simultaneous tightening of European supplies has provided support to EU pig producers.
Recently, the weaner market has weakened a little. Prices averaged €57.90/head in the week ended June 30. Nonetheless, an optimistic outlook for finished pig prices this year will mean finisher confidence remains high. In the latest week, prices were still €14/head higher than last year.
Over the past three weeks, prices in key member states have moved as follows:
Denmark: +€2.57 to €60.68/head;
Germany: -€0.10 to €68.50/head;
Netherlands: -€1.50 to €51.75/head;
Poland: -€1.89 to €50.18/head;
Spain -€2.44 to €57.93/head; and
United Kingdom +€1.47 to €58.05/head.
AHDB analyst Bethan Wilkins said: "It is noticeable that the German weaner price is currently €10 above the UK average. However, this still not really enough to incentivise live export to the continent.
"Based on the latest AHDB estimates, it costs around £60 (€67) to take a pig to 30kg, leaving only a margin of only €1.50, and that's before transport costs are factored in."