Figures from Eurostat show EU pig slaughterings in March were 22.4 million head, 0.5% lower year-on-year. However, a slight increase in carcase weights kept pig meat production broadly stable at 2.1m tonnes.
There were two fewer working days in March this year, partly due to the earlier Easter. This means on a per working day basis, slaughterings were 9% higher than year earlier levels.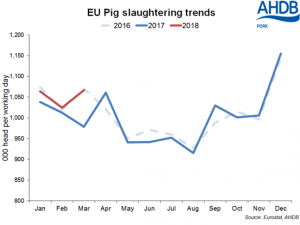 The production figure for the first quarter therefore stands at 6.2m tonnes, with 66.3m pigs slaughtered. This is an increase of 246,000 tonnes (+4%) compared with the first quarter last year, following a strong start to 2018 and also an increase in weights.
Prices began rallying in Europe in February, and this pattern continued into March, peaking at over €149/100kg towards the middle of the month. This implies processors found it easier to place volumes than in January, and also later in the year, with prices subsequently dropping off again.
In terms of absolute numbers, once again, Spain's performance was the most significant; throughputs were 4% (+500,000 head) higher than in the first quarter of 2017 with 13.7m head killed. Poland's throughputs were 420,000 higher (+8%) in the first three months, totalling 5.9m head. Slaughterings in the Netherlands were 6% higher year-on-year, at 4.1 million head.