EU pig meat production fell slightly in August, compared with both July and year earlier levels. However, production remains 3% higher across the bloc in the year to date compared with 2017, according to data from Eurostat.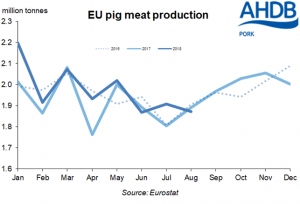 The fall in August was due to a combination of lighter carcase weights and the slaughter of fewer pigs. Throughputs were down 0.7%, compared with the same month last year, at 20.9 million head. Production was down by 1% compared with a year ago at 1.87 million tonnes.
Overall, the total number of pigs killed in the year to date reached 171.4 million head, 2.4% more than in the first eight months of last year.
Rising Spanish pig slaughterings continue to be a theme of 2018, and they rose again by 1.3% in August to 4.01 million head, not quite matching last month's 11% growth. French throughputs too grew again in August to over 2 million head.
The Netherlands however recorded a smaller kill in August (-2.6%), also after impressive growth last month. In Germany, the largest EU pork producer, there was a 9% reduction in slaughter compared with year earlier levels. Again, this reflects a trend recorded throughout 2018, as while the major pork producing EU states have slaughtered more pigs so far this year, German slaughterings are down 1% in the year to date.