EU pig prices rose by €1.67 to €184.46/100kg, in the four weeks ending November 17. The average pig price stood at its highest point since September 2013 and about €49 above this time last year.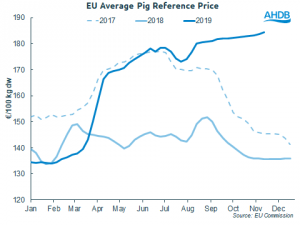 The price rise has increased a little in recent weeks, following some stagnation in mid-October. This is because of  booming shipments to China resulting in increasingly tight supplies of pig meat, especially for the processed sector.
Despite some acceleration in EU pig price growth recently, the gap between UK and EU prices has continued to close. Some strengthening of sterling has boosted UK prices further in Euro terms. For the week ended November 17, the difference between the UK and EU average stood at €0.86, compared with nearly €8 five weeks before.
The continued rise in prices reflects significant growth in some key markets.The Danish pig price was up by nearly €12 during the four weeks ending November 17, with strong export demand and alimited supply of pigs.
Other nations recorded price changes as follows over the four weeks:
Netherlands: +€4.21;
Germany: +€1.71;
Belgium: n/c
Poland: -€-0.83;
France: -€1.00; and
Spain: -€2.51.