EU pig prices reached €174.21/100kg in the week ending May, which was around €40 higher than the low point of €134.03 recorded in early March. However, the pace of growth has slowed recently, with prices gaining less than €5 in the past four weeks.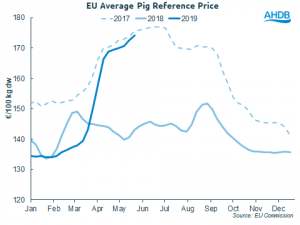 While a small supply of slaughter pigs has primarily supported rising EU pig prices lately, processors await further rises in Chinese import demand, though reports suggest these are not yet forthcoming. Because of this, AHDB said the industry might see prices stabilise for a time.
AHDB analyst Bethan Wilkins said: "The UK price also generally increased in May, albeit by less than the EU average. For the latest week (ending May 26), the UK pig price actually fell in euro terms, to €166.02/100kg, as the pound fell against the euro.
"This meant the EU price stood over €8 above the UK price, the largest EU price premium since August 2016."
The EU reference price has now been above the UK reference price for seven weeks, which is an unusual situation, as UK pork typically attracts a premium due to higher demand from some domestic markets. Pork stockpiled in preparation for Brexit has buffered producer prices from the rising cost of imports. We do not think this is a sustainable situation.
Ms Wilkins added: "However, in 2016, the EU reference price was above the UK price for 17 weeks, as the pound devalued following the Brexit vote. The market can take some time to adjust. With the possibility of EU prices stabilising, UK prices may soon regain some lost ground."